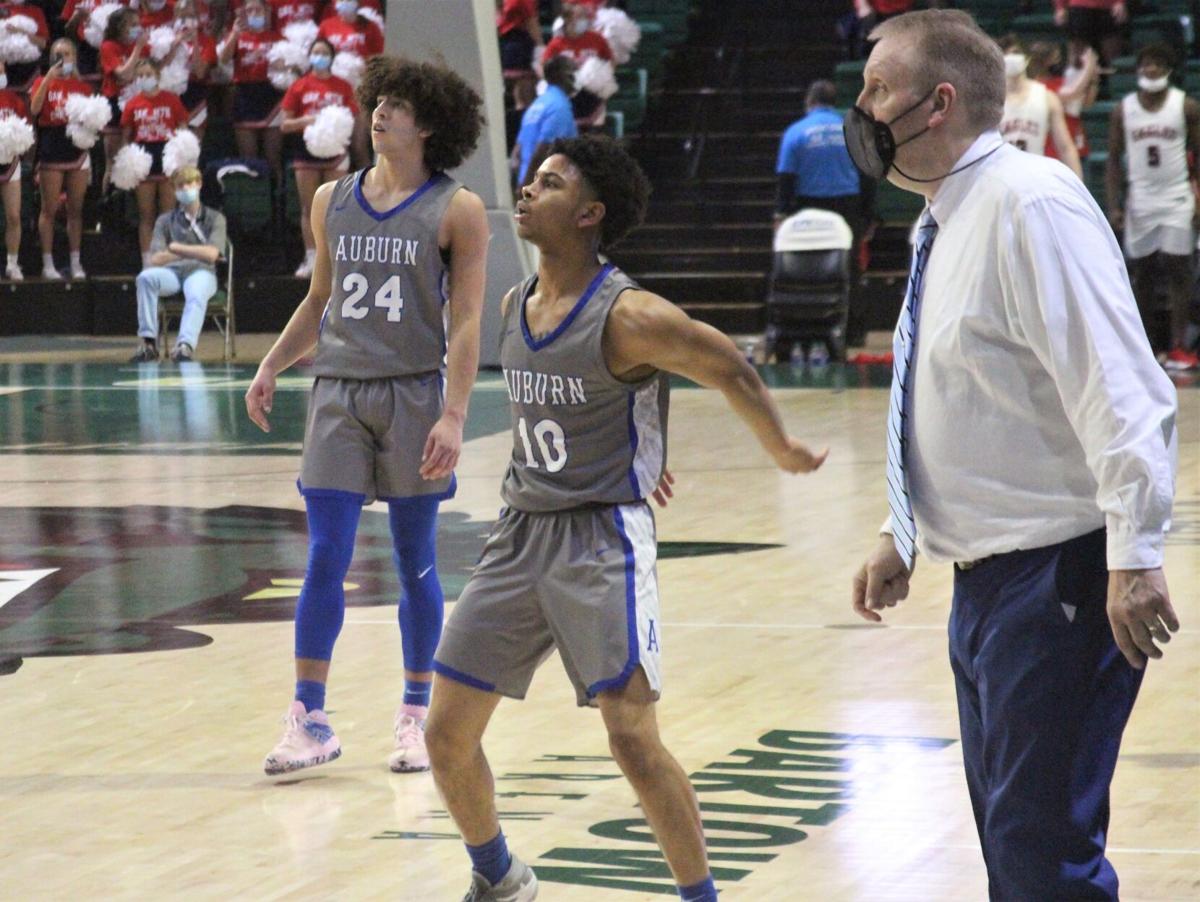 BIRMINGHAM – Entering the fourth quarter of Tuesday's Class 7A state semifinals game, the Auburn High Tigers were in prime position to come away with a victory.
Unfortunately for the Tigers, taking down a team like Oak Mountain is always easier said than done.
Auburn had a chance late in the action, but missed shots and rebounding struggles against a bigger Eagles' squad proved too much for the Tigers in a 45-37 loss. The close to the game offered a dismal ending for Auburn, which was hoping to end the season in the state title game but came up one game short of the goal.
"I'm super proud of our team. At the beginning of the year, we really didn't know if we were going to be able to have a season with the COVID hitting," Auburn coach Chris Brandt said. "It was down to defense, and sometimes the ball bounces your way in basketball and sometimes it doesn't. It wouldn't go in the hole for us in the second half, and that's a credit to Oak Mountain."
The Tigers led well into the third quarter of action and hung tight after that, but the game's final minutes saw the Eagles take control.
Chandler Alexander's free throws with 4:13 to go in the game got Auburn within two of Oak Mountain, but from there the Eagles strung together a series of plays that proved pivotal. Will Shavers hit two free throws to push the lead back to four, and after two missed Auburn free throws the 6-foot-10 Shavers grabbed the rebound then delivered a layup to create a 36-30 score.
The Tigers recovered from a missed shot on the next possession thanks to Caden Brown's block on a would-be dunk then scored again, this time on Noah Warren's layup to leave the score 36-32 in Oak Mountain's favor with 1:49 left.
Auburn was by no means out of the game yet, but a run of missed shots from the field after Warren's layup ruined the Tigers' hopes.
The Tigers missed a 3-pointer on the next possession and resorted to fouling, which led Noah Young to hit his second of two free throws to create a five-point contest. The Tigers got away with a missed layup thanks to two missed free throws by the Eagles, but nearly 30 seconds later the Tigers had to foul Evan Smith, who hit both free throws to build a seven-point Oak Mountain advantage with 1:07 still to go.
Following another missed 3 by Auburn, Smith hit two more free throws to leave Auburn trailing 41-32 with 47 seconds left in regulation.
Warren answered the two free throws with a layup, but Oak Mountain sent its fans into a frenzy when Wilder Evers threw down a dunk with 22 seconds remaining. Warren made one more big play with a 3-pointer following a Shaver free throw, but the shot didn't make a difference with only nine seconds remaining.
Evers tacked on one more free throw before the celebration began for the Eagles.
Bryson Clague led Auburn with nine points, followed close behind by Warren with seven. Nine Tigers had at least one point in the loss, although only Clague and Warren had more than five.
Evers led the way for Oak Mountain with 15 points. Noah Young had 12, and Shaver had 10 along with six rebounds.
The game's conclusion served as a bitter ending for an Auburn team that set itself up well with its play in the first three quarters.
The Tigers jumped out to an early 9-2 start to the game thanks in part to Clague, who scored four of those early points. Auburn entered the second quarter with a six-point lead before the Eagles battled back with a strong eight-minute run that cut the Tigers' lead down to four at the break.
Come the third quarter, Oak Mountain scored 15 points to go ahead.
"I mean, I've played in a lot of big games in my life. I was part of the football team, so I played in the state finals. When I came out, I was just confident," Clague said of Auburn's strong start. "We went straight at them. I thought we had a really good start."
Brandt talked about how special this Auburn team was all season, and that continued Tuesday even after the loss. He said he told his players about what he went through as an Auburn High player in 1987, when the Tigers were ranked No. 1 but ultimately fell short of their title hopes.
Brandt said situations like Tuesday's loss can build character and offer lessons that his players can carry with them well into adulthood. The game's ending wasn't what Brandt was hoping for, but it didn't make him think any less of the team that brought him back to Birmingham.
"I knew that we could go far. I thought we could make it a little bit farther, but that's just the way the ball bounces," Brandt said.