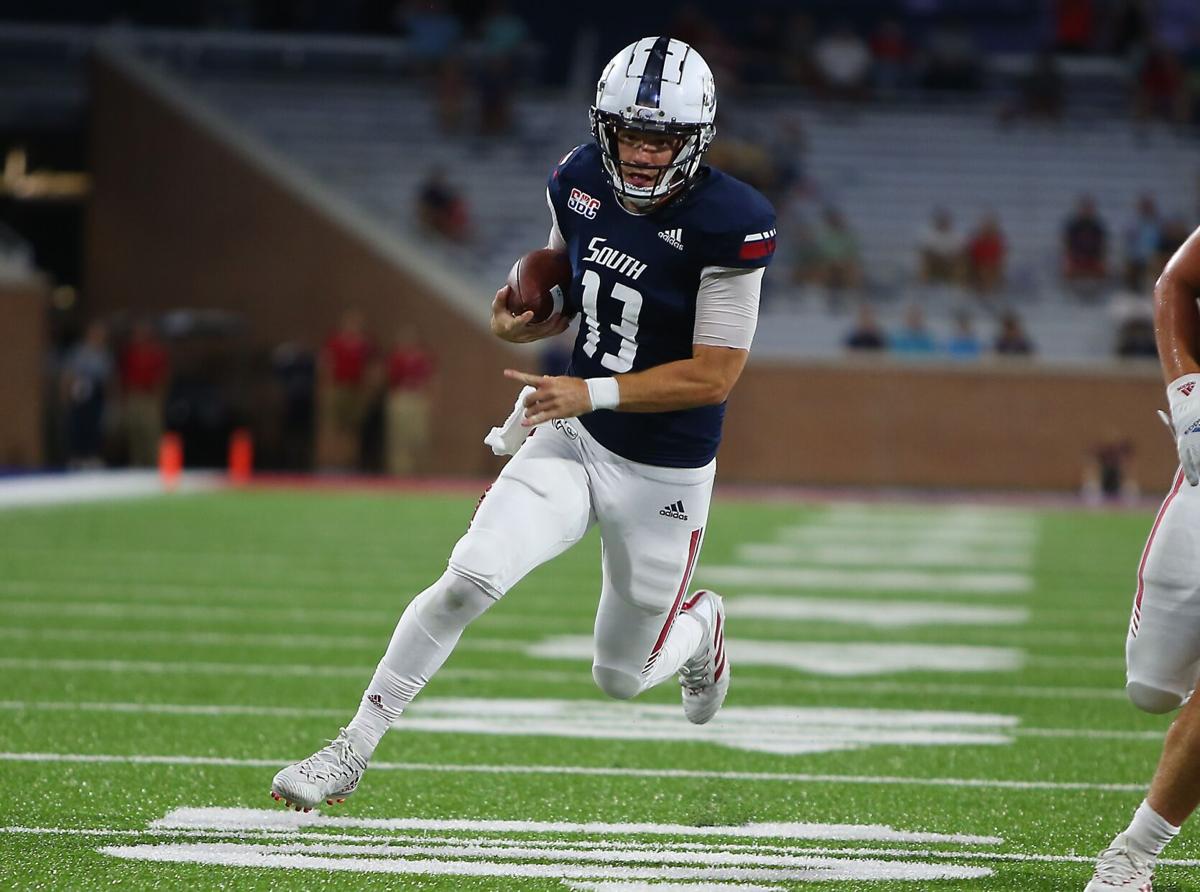 With the end of a college football career that spanned six years and three different teams in sight, Opelika alum Jake Bentley wanted to go out on his own terms.
Bentley played on a torn MCL and ACL and threw for 354 yards with two touchdowns and three interceptions in South Alabama's regular season finale against Coastal Carolina on Friday. Bentley's efforts were crucial for the Jaguars, which hung tight with the Chanticleers and forced overtime before losing 27-21 to end their season.
Bentley suffered the knee injuries during South Alabama's game against Troy on Nov. 6 and subsequently missed the Jaguars' games against Appalachian State and Tennessee. Given his playing career was nearing its end, Bentley made up his mind that he was gutting it out for one more game.
"[Playing] was very important. The relationships that I have built with the guys on the team are special. I wanted to go out and compete with them, especially on senior night," Bentley said. "It was tough [physically], but I just kept thinking about how the team needed me and tried to keep my mind off of it."
Bentley helped South Alabama start off right with an eight-yard touchdown pass to Lincoln Sefcik with just under seven minutes to go in the first quarter. He later connected on a 57-yard pass to Jalen Tolbert that gave the Jaguars a seven-point lead with 4:24 to go in the fourth quarter.
South Alabama head coach Kane Wommack expected nothing less from his starting quarterback.
"You think about the mentality that Jake Bentley's had [this season]. To be able to get back on the field is a perfect example of the type of young man that he is," Wommack told USAJaguars.com. "He's a team player, he wants to be there for his teammates, he's a competitor and wants to do his best and maximize his opportunities.
"I'm so glad I had him here with us for the first year of this program. His steadiness, his maturity, his urgency will be something that we will grow from because of the standard that he's set."
Bentley ended his time at South Alabama completing 70 percent of his passes for 2,476 yards with 17 touchdowns and eight interceptions in 10 games.
Bentley explained the experience Friday was extra special because several of his family members were there, including his brother Shuler Bentley, an offensive analyst for the Chanticleers. Bentley spoke highly about his one year at South Alabama, saying the program is headed in the right direction and will win several games in the coming years.
Bentley praised Wommack and offensive coordinator Major Applewhite along with his Jaguars teammates, all of whom Bentley credited for helping him find his love for the game again. South Alabama's loss left the Jaguars short of bowl eligibility, so Bentley will soon turn his attention to coaching.