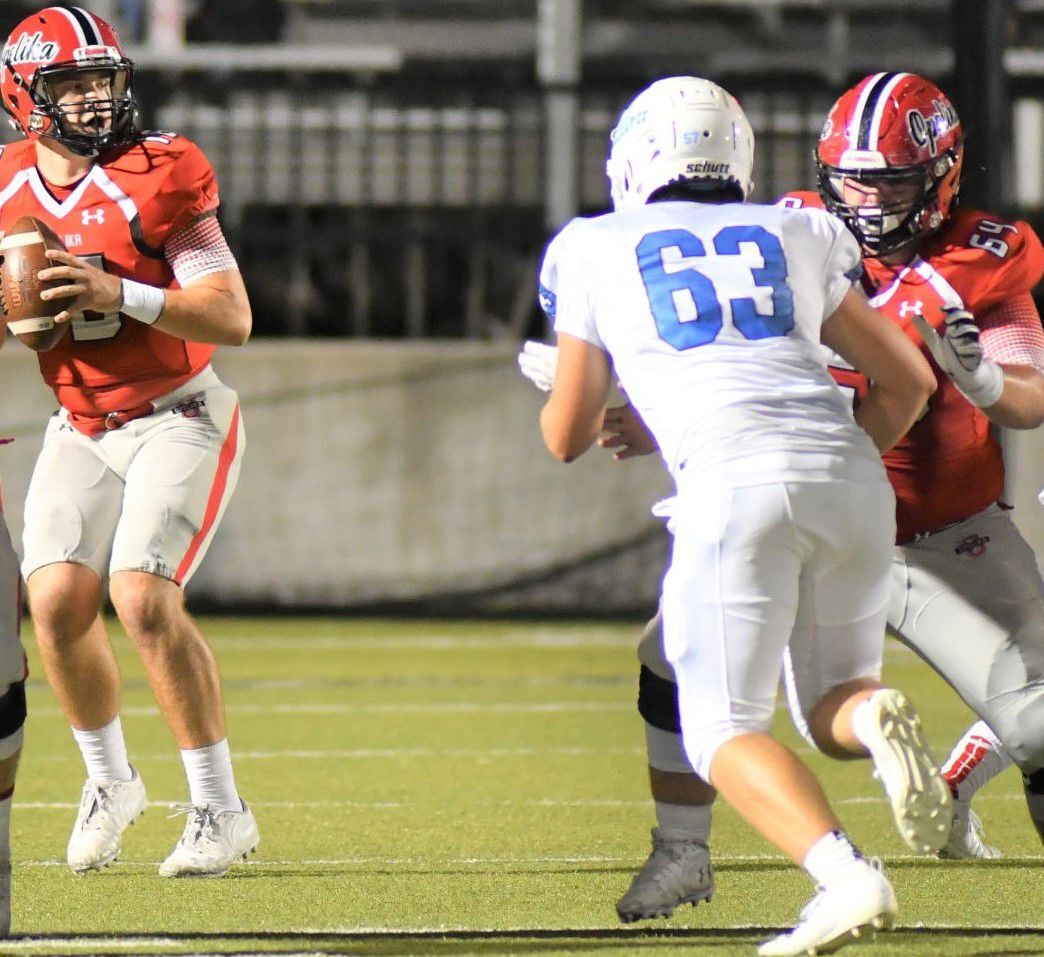 Opelika center Kris Epperson wasted little time in proving he was the next in a long line of excellent offensive lineman for the Bulldogs. That strong play hasn't gone unnoticed, either, as several college coaches have already come calling.
Epperson received a scholarship offer from Sewanee on Tuesday. The 5-foot-10, 286-pound rising senior previously had offers from Huntingdon College and Culver-Stockton College.
"It's a blessing. Ever since I started playing football I would watch all the big recruits sign somewhere, and I dreamed to be playing at the next level," Epperson said. "To get this kind of attention means a lot to me because it really showed me that all of those 6 a.m. workouts and Dawg Days in the winter are starting to pay off.
"(Playing college football) would mean everything, to honor my family, come from a football town and show out at the next level."
Epperson grew up playing offensive guard before being thrown into the fire against Saraland in the state playoffs in 2018. Despite the challenge, Epperson held his own and stayed at center throughout a 2019 season in which Opelika excelled.
With Epperson and his teammates up front blocking, Opelika quarterback Brody Davis threw for over 1,600 yards, running back Eric Watts rushed for 1,256 yards and the Bulldogs won 11 games and reached the Class 6A state semifinals.
"He's really good in the classroom, is a really smart kid and has a good test score. Then when you turn on his film from last year, his film is really impressive," Opelika head coach Erik Speakman said. "Being the center, it always starts with him. I can't remember a time when he had a bad snap. He's not the biggest kid on the field, but he gets in there and does a great job with his snaps and his blocking schemes. He leads everything up front for us."
In retrospect, Epperson said his performance alongside his Bulldogs teammates showed him how far he's come in his playing career.
"It really opened my eyes at the type of player I was," Epperson said. "I mean, it feels like yesterday I was just a kid in the stands in that state championship game, and to almost make it back there and compete with some of the best guys meant a lot to me."
Epperson explained the challenge of playing offensive line in one of Alabama's most competitive classifications, saying you have to be smart and committed to the cause. He said there's a lot of studying in the meeting room every week as well as the understanding that you have to outwork your opponent with every opportunity you get.
Epperson said this offseason has been a weird transition, adding he hated to miss the last spring of football. Still, he said he felt like he's gotten better because of the workouts he's done, adding that he's focused on improving his footwork and movement prior to his senior season.
As for life after high school, Epperson said he is seeking a college with the right culture and atmosphere and one that will feel like home during his time there. Epperson still has plenty of time before he has to make the decision on his next school, leaving the focus for now on Opelika's opening game next month.
"I can't wait. I mean, it's going to feel like Christmas Day to strap up again and just play with the guys I've played with all of my life," Epperson said. "Hopefully we'll show out this season and end this season with a blue map."
Get in the game with our Prep Sports Newsletter
Sent weekly directly to your inbox!