Looking back on his childhood in a still-segregated Opelika, Roy Lee Jackson remembers his first-grade teacher, Miss Ross, telling him he could be whatever he wanted to be but would have to work twice as hard to do it.
Jackson took his teacher's words to heart during a baseball career that took him to Tuskegee University and then all over North America during a 10-year run as a major leaguer. Now, 34 years after he stepped off the mound for the last time, Jackson's latest baseball accolade has his former teacher's words of encouragement ringing in his ears once again.
Jackson was elected to the College Baseball Hall of Fame earlier this month as one of the hall's 12 newest members. Jackson joins the hall as part of a class that includes former Georgia Tech standout Jason Varitek, former Georgia Tech and Miami (FL) coach Jim Morris, and Minnesota shortstop Paul Molitor.
The newest inductees will be honored virtually on Aug. 27 during the annual College Baseball Night of Champions.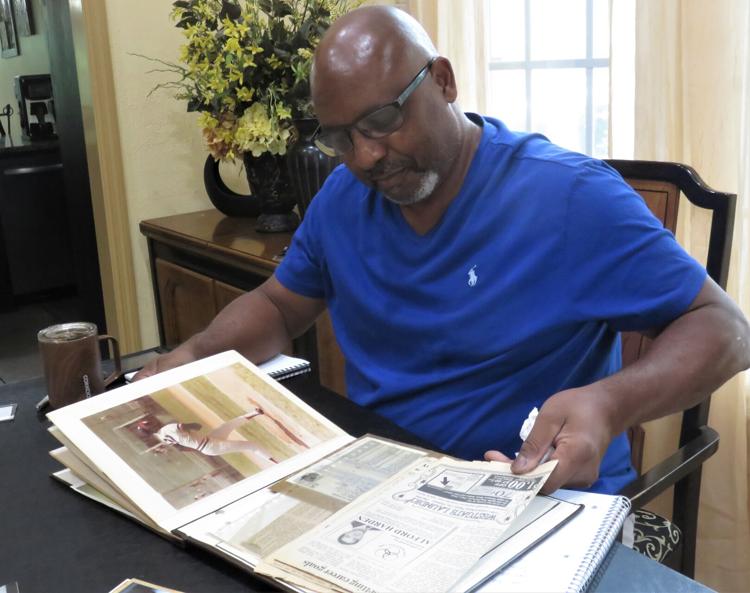 Jackson explained that he nearly missed his call to the hall after not recognizing the number, as he let the phone go to voicemail and went about his day. Once he decided to call back and see what was going on, he was completely surprised by the news.
"To be quite honest, I was totally silent. I didn't know what to say, and actually didn't say anything for a couple of seconds. I told him, 'I guess you probably think I'm kind of crazy, but I'm just kind of shocked,'" Jackson said. "Shocked would be the operative word about how I reacted to it. I'm just thankful to God that it happened and I could use it for good."
Baseball opens doors
Jackson was born in Opelika on May 1, 1954, the second-oldest of seven kids to Fred and Johnnie Jackson. Jackson explained the family grew up poor with his father working multiple jobs at a time and his mother staying busy herself to keep the household afloat, but his parents' dedication instilled in Jackson a work ethic he carried with him for the rest of his life.
Although Jackson and his brothers and sister didn't have much, the kids kept themselves entertained by playing games with whatever they could get a hold of. Jackson recalled cutting a hole in a foot tub and putting it in a tree to play basketball and getting a broomstick and a tennis ball to play baseball.
Jackson credited his cousin, John Oscar Grady, for encouraging Jackson and the other kids to play ball — which in turn kept them out of trouble. He also pointed to the efforts of Robert Flournoy and Mike Covington — who each served as directors of the Central Park Rec Center in Opelika — in making rec league sports affordable for kids who otherwise could not have participated.
Jackson also commended the generosity of Elmer Ward, a white man who took it upon himself to pick up Jackson and his older brother and take them wherever they had to go, which was instrumental given they did not have a car.
Jackson reached Opelika High School not long after integration and excelled as a right-handed pitcher for the Bulldogs, which led to him becoming one of the state's top prospects. Still, major scholarship offers were hard to come by in a world still adjusting to Black players, and after being drafted by the Houston Astros late in the 1972 draft Jackson instead decided to go to Tuskegee.
Passing up a chance to go to the pros might have been considered risky for some, but to Jackson his main focus in playing baseball was to earn a scholarship because of it.
"Honestly, I never ever thought about playing professionally. I thought about wanting to go to college, but I knew that my parents couldn't afford for me to go to college. My only hope was to get a scholarship, and I didn't even think I would be able to get that because I wasn't very familiar with how all those processes worked," Jackson said. "Here I am, this Black kid with not much publicity at all just coming out of segregation. During that time, you just kind of hoped more so than anything else."
Once Jackson left Tuskegee, it was evident he would in fact still have a path to a professional career.
Jackson was a hitter's worst nightmare during his time with the Tigers from 1973 to 1975, as he was a three-time All-Southern Intercollegiate Athletic Conference player who racked up 384 strikeouts in 251 innings thanks to his 96 mph fastball, a devastating slurve and a deceptive changeup. In 1975 alone, he struck out 160 batters to lead all Division II pitchers.
He was no slouch at the plate either, hitting .404 as a sophomore in 1974 and a team-leading .431 with a .718 slugging percentage as a junior in 1975. In a conference that featured future eight-time MLB All-Star Andre Dawson, Jackson more than proved he belonged.
Looking back, Jackson has several special memories from his Tuskegee days, including the no-hitter he threw against Alabama A&M. More than anything, Jackson said he relished the opportunity Tuskegee gave him to become a man.
"(I enjoyed) getting to know different people from different parts of the country on the team because of course I was closer to them than I was to people I went to classes with. The feeling of measuring up and fitting in and being accepted and those kinds of things," Jackson said. "Those kinds of things meant a whole lot to me. The idea of being away from home and being on my own so to speak, that meant a lot to me because it helped me to grow up and mature and actually become a man on my own."
The pitcher finds a purpose
Jackson left Tuskegee after the 1975 season and signed as a free agent in the New York Mets' organization. He said he used the hype about the farm system's top-drafted players as a motivator to show he was just as good, and in time he proved his point.
Jackson's work on the mound didn't go unnoticed by the Mets, who called him up in September 1977. The late-season call-up became a trend, as Jackson spent the majority of 1978 and 1979 in the minors before getting called up in September both years.
Jackson pitched in 24 games for the Mets in 1980 that included a 12-strikeout performance in a complete-game victory against a Cincinnati Reds' lineup that included several perennial All-Stars such as catcher Johnny Bench, shortstop Dave Concepcion and right fielder Ken Griffey Sr.
Jackson shared that 1980 was such a meaningful year not just because he was establishing himself as a major league pitcher. After a conversation with a teammate who had become a born-again Christian, he attended a Bible study and became born-again as well, a decision that has motivated his life ever since.
"We went to Bible study, and before the guy could ask who wanted to give their life to the Lord my hand was up before he even finished," Jackson said. "My life has never been as good. A lot of people interpret good by things that you have, and that's not what I'm talking about at all. I have the peace of God and the love of God for my wife (Mary) and other people, and it's not fake. It's real. That's what's important to me."
Jackson was traded to the Toronto Blue Jays prior to the 1981 season, setting up a four-year run north of the border in what was the most successful portion of his pro career. He was extremely effective during his time with the team — he led the Blue Jays' relievers in ERA for three seasons and recorded 24 wins and 204 strikeouts over the four years — before being released prior to the 1985 season. He spent that year with the San Diego Padres then the next with the Minnesota Twins.
While he remained committed to baseball during the early 1980s, Jackson also maintained focus on his faith and spreading the word to those around him.
Jackson recalled arriving at the Blue Jays' parking lot almost six hours before a game and finding it completely empty besides a young autograph seeker. Jackson obliged the young man's offer and then asked him a question that, as it turns out, didn't leave the young man's memory over the next three decades.
"I signed an autograph for him and said, 'Now, let me ask you a question: if Jesus was coming through this parking lot and you knew he was going to show up today at the same time, would you still be waiting for him out here in the parking lot?' He didn't say anything," Jackson said. "One day about 30 years later I'm on my Facebook page, and I get this message. It said, 'Mr. Jackson, I'm that kid you talked to and asked that question out in the parking lot. It always stuck with me, and I never forgot. Because of that, my life has changed since then. I'm a schoolteacher. I'm going to church and am active in church. I just wanted to let you know that question you asked me stayed with me for all of these years. I never forgot it, and it's really changed my life.'"
Life after baseball
Jackson retired from baseball in 1987, and shortly thereafter he and his wife moved back to Opelika. He worked a few different jobs with the Opelika school system, a fitness company and then a manufacturing company for about 15 years before retiring. Even before that, he and his wife established the New Creation Service Center in Opelika, a home-based ministry that appears on Praise 88.7 FM and also shares devotionals on its YouTube channel and on Jackson's Facebook.
Jackson has always preferred to let his work do the talking even going back to his high school years, when he let his family brag about his athleticism while he focused on getting better every day. He still doesn't like any sense of the spotlight — even as he joins the rare fraternity within the College Baseball Hall of Fame — but he does recognize the lesson others can learn from his experience.
Jackson grew up with very little during a time in which young white and Black men playing sports and going to school together was far-fetched and frowned upon by many, but he persevered and turned the sport he loved into a career. With the attention on him once again, Jackson said his hope is that young people see his success story and understand that Miss Ross' words are true for them, too.
"The message I would want to be conveyed as a result of this experience is that you can be whatever you want to be. I was never told that I was a victim of anything. My parents never told me that. My daddy always told me, 'Boy, ain't nobody going to give you nothing. You're going to have to earn everything that you get.' My dad backed that up with his work ethic," Jackson said. "I'm just thankful to God that (being selected to the Hall of Fame) happened and I could use it for good."
Get in the game with our Prep Sports Newsletter
Sent weekly directly to your inbox!