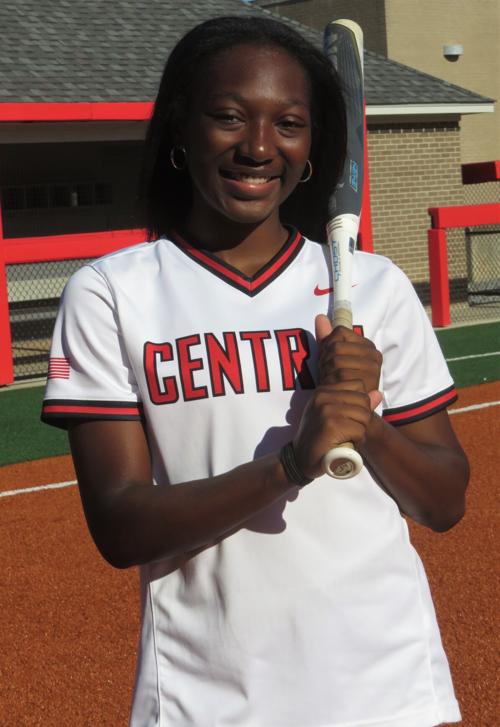 After Central-Phenix City outfielder Kristen White's sophomore season was derailed by a knee injury followed by the coronavirus pandemic, she was determined to not take any of the remaining time in her high school career for granted.
That much was evident this spring, when White dominated at the plate and repeatedly caused issues for even the toughest opponents.
White had a spectacular junior season at the plate and ended the year hitting .580 with a .620 on-base percentage to go with 80 hits, 59 runs scored, seven doubles, three home runs and 41 RBIs while only striking out five times. She was equally dangerous once she got on base, as she stole 63 bases on 66 attempts to help the Central offense push for more runs game after game.
Thanks to her excellence at the plate and on the base path, White has been named the Opelika-Auburn News' Softball Player of the Year.
"I wouldn't be here without my teammates. I thank my teammates for always pushing me, my coaches – especially coach [Mitchell] Holt – my family and God," White said. "We just came together this year and played our hardest. Having a shortened season last year was kind of devastating. Our chemistry got better because we put in all the effort and we wanted to be out there so bad.
"We had a lot of success at the first of the season, and then we kind of got hit with adversity. We struggled, but we made it through."
White endured a doubly difficult 2020 season thanks to tearing the MCL in her right knee about two weeks before the season was canceled due to the pandemic. While her unexpected time away from her team was hard to come to terms with, the issues she felt as a result of her injury had her even more concerned.
Speed has always been a key part of the game for White, who first made her way to the varsity squad as a pinch runner when she was a seventh grader. The idea that she might not be as fast as she was pre-injury lingered longer than she hoped, but she pushed through all the same.
"We used to just run on the track, and it would hurt so bad I would just cry and cry like I'm never going to be able to be as fast as I used to be," White said. "I just kept working at it – doing sprints and stuff like that. I got back to pretty much the same speed. It just really built my confidence a lot."
White persevered and said that she felt like she was getting back to normal roughly 10 games into the 2021 season. Her comfort playing again was evident in how she played, as she got off to a hot start that barely cooled off as the season wore on.
White said she typically switches between slap-hitting and the standard hitting approach when she steps into the batter's box. As far as her mindset when she's waiting on the right pitch to come in, she explained the less thinking she does the better.
"I get in the box and try not to think because when I overthink I fail. I just don't think and then I succeed. This year I had a lot of success," White said. "[My surgery] really just motivated me. I thought that I wouldn't play at like the same speed I was used to. It was a setback, but the comeback was extremely strong. I'm actually thankful for that."
Despite all her big hits this season, White said her favorite memory was the trip to regionals. The players spent most of the spring riding with their parents to games due to COVID protocols, but the trip to Montgomery gave the team a chance to finally reunite on the bus.
The regional stage was a notably big one for White given her experience the previous two seasons. She underwent thumb surgery in 2019 and was limited to only base running as Central reached the state tournament and then saw the 2020 season ended early, which meant the regional stage would be the biggest White had truly played on in her career.
"Going to regionals, it felt like state to me. Playing Vestavia [Hills] and Hewitt[-Trussville], it motivated me," White said. "I was a little nervous. I had a little pressure on me because that was like a state feeling to me. It was kind of nerve-wracking, but it was actually really, really fun."
White and the Lady Red Devils' season ended with a loss to Vestavia Hills. Despite the disappointing ending, White was energized by the experience and eager to get back to work.
White has been a valuable member of the Central team for five years now. With one year remaining in her high school career, she is eager to show out again in 2021 and help the Lady Red Devils chase a state title.
"[The seniors] all just want to get out there. We have a lot of younger girls, so we kind of have to push them through adversity and the postseason. It's just really fun because – in the going on six years that I've been here, everything I've learned I get to use to help with the other girls," White said. "I'm ready to get out there with my teammates. I want to win a state championship, so I'm just going to have to lead this team to state."