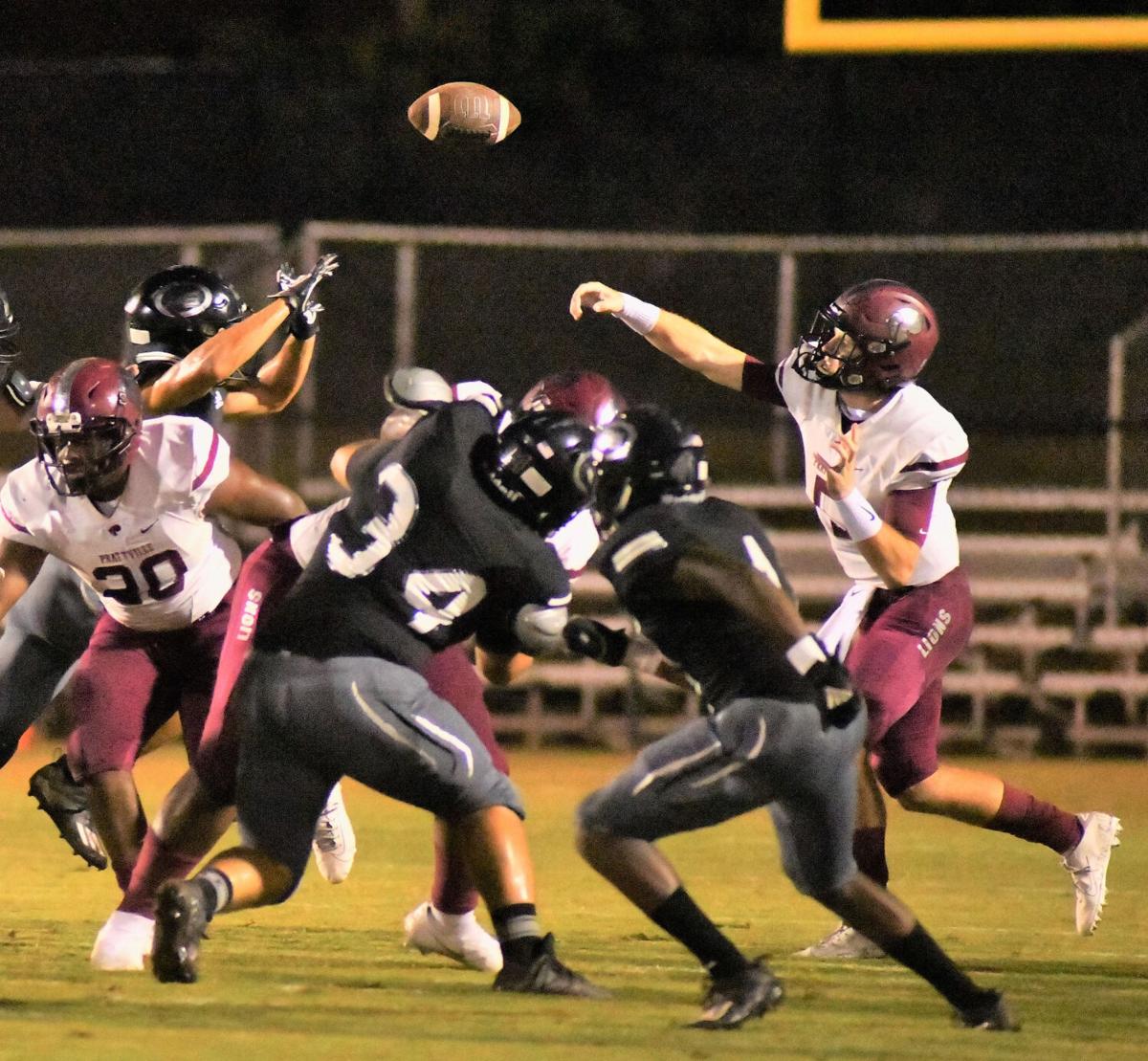 SMITHS STATION – The Smiths Station Panthers fell to the Prattville Lions by a score of 31-3 on Friday night at Panther Stadium.
Both teams entered the night with a bad taste in their mouths after losses last week against Central and Auburn, respectively. But it was Prattville who was able to channel that into a productive night against the Panthers.
It's been a slow start offensively for the Panthers, and Friday night continued a trend of low-scoring games for the Smiths Station offense. However, there were flashes Friday night of what could be offensively for the Panthers, with its brightest spot being quarterback Corey Minton.
During the first two drives, Minton looked as poised as he has this season against a Prattville defense led by Alabama commit Ian Jackson at middle linebacker.
On the first two drives, Minton was 6-of-8 for 34 yards, nailing receivers Cianan Williams and Devyn Pearman down the sideline for a few of those completions. Minton had the offense clicking in the face of a relentless pass rush and set up running backs Rylan Cowart and Jordan Jones with room to get around the corner of the defense. Minton also delivered a few punishing runs of his own when he had to call his own number.
The first two drives of the game were promising, as the Panthers picked up 81 yards on those two possessions. The problem for the Panthers was that these smooth-sailing drives ultimately ended up with only three points.
For the rest of the night, the bulk of the work was left up to the defense to stop a Prattville offense that was looking to rebuild after its own low-scoring performance against Auburn.
Lions quarterback EJ Ousley and company came through. Ousley benefitted well off of the Panthers' increased attention to the backfield, as he found Kameran Shanks and Spencer Roy for a few explosive plays and two touchdowns in the first half.
During their best moments in the second half, the Panthers utilized the comeback route well and were able to funnel the defense enough to get room around the outside. However, the Lions were able to adjust quickly and effectively enough to bring Smiths Station's progress to a halt.
Head coach Mike Glisson and his Panthers, who are now 1-3, will look to make the most of their week off next week before facing Benjamin Russell away from home
Prattville 31, Smiths Station 3
S — Joshua Childs 21-yard field goal GOOD, 3:48
P — Kameran Shanks 26-yard reception from EJ Ousley (kick good), 0:00
P — Zavion Smith 61-yard reception from EJ Ousley (kick good), 6:17
P — Spencer Roy 14-yard reception from EJ Ousley (kick good), 3:22
P — Jhameir Gore 15-yard run (kick good), 7:15
P — James Rogers field goal GOOD, 9:17
Get in the game with our Prep Sports Newsletter
Sent weekly directly to your inbox!