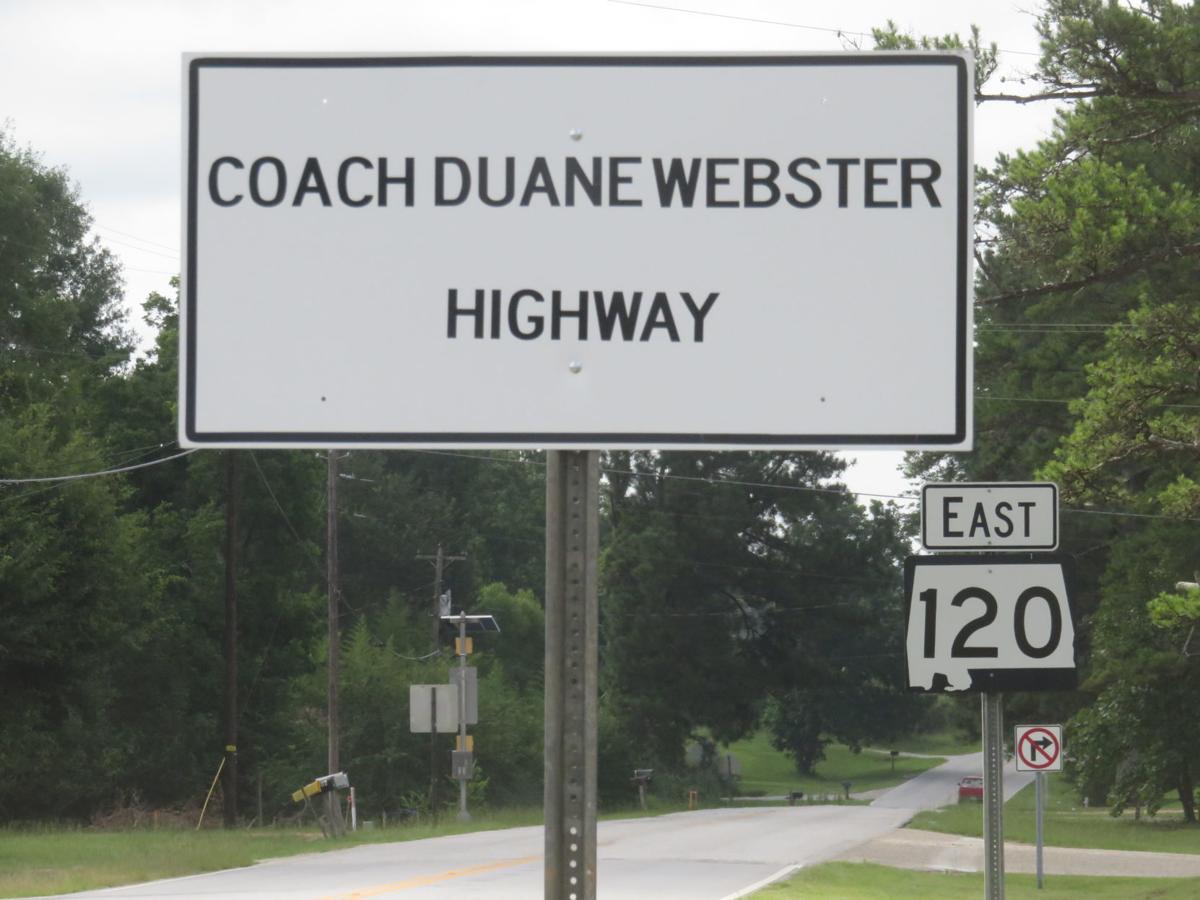 During his 26 years as Reeltown football coach, Duane Webster left a mark on the Rebels' program and turned Reeltown into a real contender on the field. Webster has received several accolades in the decades since his retirement, with the latest involving the road that runs right in front of the high school.
Recently a group of Webster's former players along with the Tallapoosa County Commission and the Alabama state legislature worked together to rename a portion of Highway 120 as Coach Duane Webster Highway Those involved revealed the news to Webster, 89, in a ceremony at the school in March, and a temporary sign is now on display until its permanent replacement is ready to go up.
"All of the former players, we really think a lot of him. We love him. He's getting up in age, and we wanted to do something for him," said Tim Coan, who graduated from Reeltown in 1971. "Gary Clayton — we played on the first undefeated team Reeltown ever had — contacted me and wanted to know if we could get anything done. I told him, 'Sure.' I got with (District 5 commissioner George Carleton Jr.). We got everything set up, got with (state representative) Ed Oliver (R-Dadeville) and got it done.
"We were proud to be able to do it for him."
Webster attended Reeltown for his first three years of high school then returned to the school as a coach in 1956. The story goes that Webster was planning on only coaching basketball, but the administration begged him to lead the floundering football program and he obliged.
Webster took over a team that had won five total games in the previous seven years and quickly won six games in his debut season. It was only the beginning of a historic run for Webster, who spent 25 of the next 29 years — excluding a four-year run at Tallassee, his other alma mater — at the helm for Reeltown.
During his entire career, Webster posted a 218-93-9 record with seven playoff appearances, six region championships and two undefeated seasons, the second being his final year in 1987. The 1987 title team was the first for a Rebels' program that has since won additional championships in 2001 and 2009.
"With Reeltown, they hadn't won a game hardly in years. He was able to instill a winning tradition in the community, which gave it an opportunity to thrive where in the past they hadn't been known for doing very much,' said Jackie O'Neal, who was Webster's assistant for 10 years and replaced him in 1988. "I think (the honor is) well-deserved given the fact that he was the one that really put Reeltown on the map as far as athletics. I think it's a great honor for him."
Webster has received several accolades over the years, including having his name on Reeltown's football stadium and being inducted into the AHSAA Hall of Fame in 1994. Those moments were undoubtedly special for Webster, but what set the highway naming apart was the fact that it was one he did not see coming.
The former players worked behind the scenes to secure the recognition and informed Webster's wife, Vera, who they told to keep it a secret. She complied, leading to the moment in March when the Websters arrived at the school for the big reveal.
Once the announcement was made, Webster showed his appreciation in the only way a tough-skinned coach of his caliber could.
"He got up and said, 'Well, I don't know. I appreciate this. Y'all know I'm not a speaker, but I think I can get through this.' He said, 'I'm not going to brag on none of y'all,'" said Coan, who played for Webster in football, basketball and baseball. "He made a good little ol' speech, and he called me a knucklehead. Miss Vera said, 'When you get a nickname, you're special.' That made me feel real good."
Webster has remained a constant figure at Reeltown football games even well into his 80s, and over the years Charles Webster, Billy Dean Welch and a few others have taken him to all of the Rebels' home and away games to make sure he didn't miss a minute of the action.
If that happens again this fall, the group will arrive for home games via the road that bears his name.
Get in the game with our Prep Sports Newsletter
Sent weekly directly to your inbox!