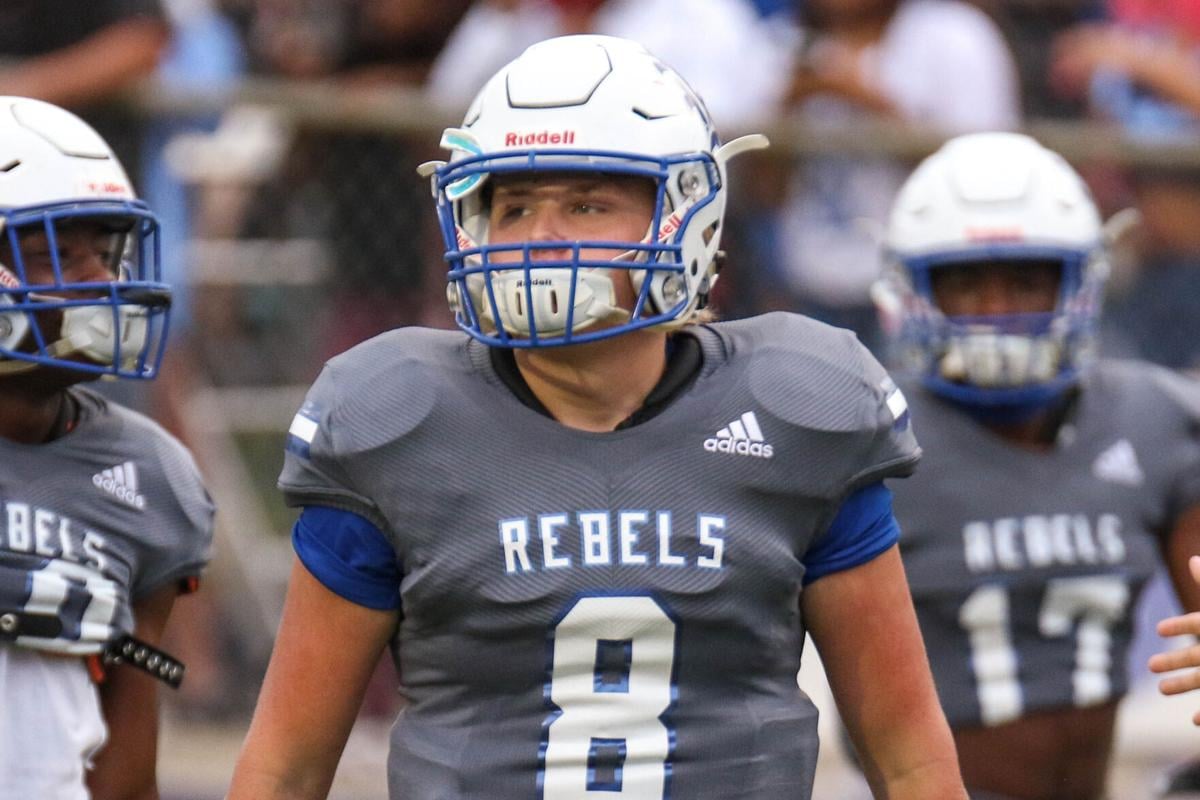 The Reeltown Rebels made history last week with their first region win as a Class 3A team. If the Rebels are to reach 2-0 in region play, they'll have to do so by topping one of the classification's true state title contenders tonight.
Reeltown (2-1, 1-0) faces a big test at home in facing Montgomery Catholic (2-1, 1-0) as a part of Region 4-3A play. The game serves as the first time in 27 years the Rebels have played the Knights, which went undefeated in regular-season play last year as a Class 4A team.
The Rebels wasted little time shaking off its Week 2 loss to St. James by taking care of Childersburg by a 28-8 score last Friday. Reeltown head coach Matt Johnson said his players did an excellent job up front on both sides of the ball against the Tigers last week, and while there are some areas that need to be cleaned up he was proud of the Rebels' efforts.
"I'm proud of our guys for continuing to fight. I felt like we played the best defense we've played all year, but we kept it close because we put the ball on the ground twice and just had some very costly penalties. We played extremely well as far as effort and assignment, but we just had some crazy penalties," Johnson said. "We had a really hard week of practice and really stressed the energy level and the intensity. Some of that is why I think we lost a little bit of our discipline in some areas."
Reeltown's balanced offense has been a welcomed sight this season, and it was on display again last week. Quarterback Gabe Bryant continued to impress by throwing for nearly 150 yards, and Juicy Hughley overcame injuries that have hampered him to start the fall by taking 17 carries for 141 yards and two touchdowns.
Relying on its run game has been a staple of the Reeltown offense for years, but Bryant's emergence as a strong-armed quarterback has given the Rebels a real means to keep defenses honest and respect the passing attack — which should in turn open up more opportunities on the ground.
"This year is a little bit different from the past where we established the run but then we can be a little bit more balanced," Johnson said. "We're getting a lot of yards throwing the football. We've played three football games and have over 500 yards passing. We're running the ball well enough that it's opening that up for Gabe. He's got a big arm, and we've got a couple good receivers that are playing real well."
The victory was one worth celebrating for the Rebels — at least for a little while. Johnson isn't sugarcoating the challenge Reeltown faces tonight by hosting a dangerous Knights team that has a region championship on their minds.
"Catholic will by far be the best team we've played so far. … This is a semifinal or finals team. They've been deep in the playoffs every year," Johnson said. "They're extremely athletic. They two-platoon. They don't play anybody both ways hardly. Not only that, but they're extremely well-coached. It's a huge region game, which makes it big. We're going against a really good team, which makes it big.
"One thing that I tell our players every day is the reason this game is so big — that it's the biggest game of the year right now because it's the next one."
Johnson praised the Knights' defense, saying it's nearly impossible to fool their front seven and that they are technically sound across the board. He added that the Knights' offense — which is primarily a spread-option offense that will mix in other concepts as well — is extremely hard to replicate in practice, and it will be a challenge to slow down tonight.
As far as offensive playmakers, Johnson pointed to Montgomery Catholic freshman quarterback Caleb McCreary, running back Jeremiah Cobb, and fullback/receiver Jamarion Augustus as players the Rebels must slow down. Defensively, it often starts and stops with junior linebacker TJ Dudley, a 6-foot-2, 210-pound four-star recruit with scholarship offers from schools such as Alabama, Auburn and Clemson.
Johnson's keys to contending for a victory are straightforward. He said Reeltown must eliminate the costly penalties that have occurred the last few weeks, avoid turnovers and play its style of football by gaining tough yards on the ground to open up play-action opportunities for Bryant and by playing bend-but-don't-break defense.
Johnson's Rebels were dominant in region play over the last few years in 2A play and intend on continuing that tradition as a 3A school. The difficulty is understandably greater now, but a good showing against the Knights would make it clear that the Rebels are capable of taking on the challenge.
"Us moving up and being one of the smaller 3As in the state, for us to get a win against an opponent like this I think would put a stamp on us that we're ready to compete and play this type of football," Johnson said. "(Montgomery Catholic) is a semifinal or finals team. They've been deep in the playoffs every year. There's no doubt that they'll go extremely deep in the playoffs this year.
"This is a very high-caliber team, so to get a victory Friday night would really give us some momentum going into the bulk of our region schedule and having one more game before the bye week."
Get in the game with our Prep Sports Newsletter
Sent weekly directly to your inbox!