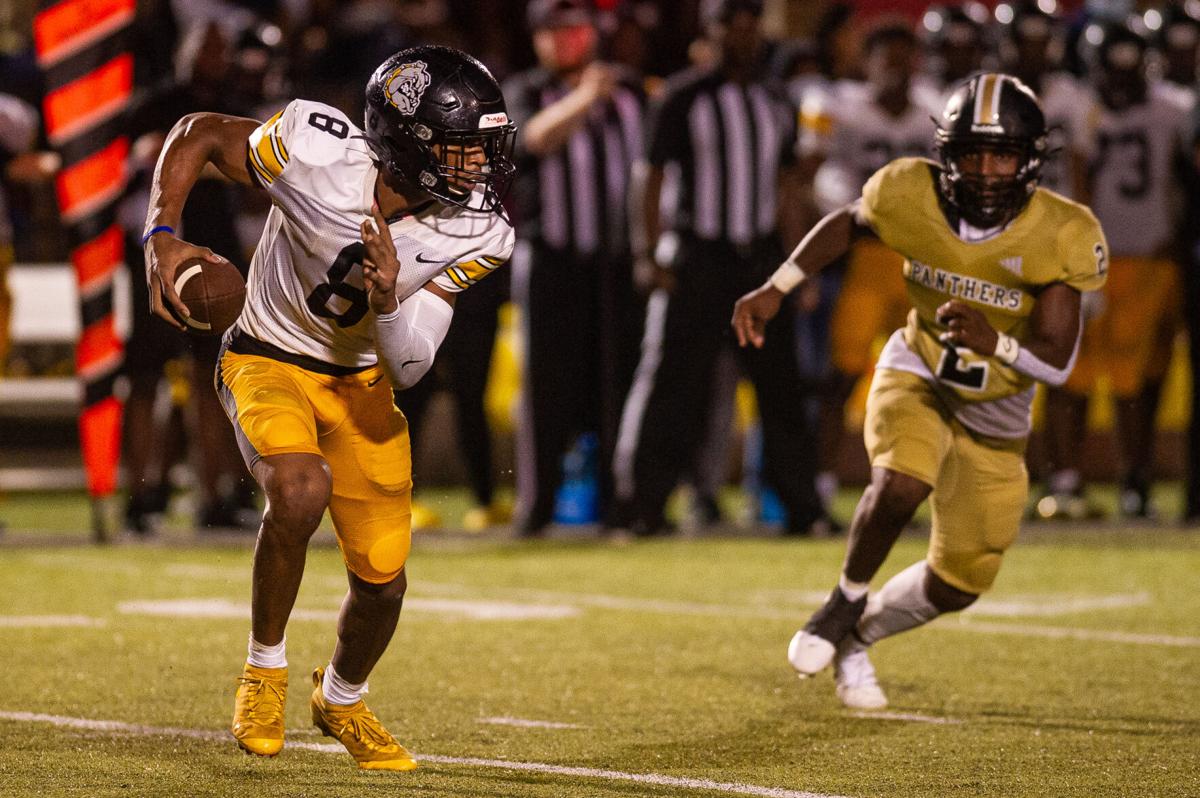 LAFAYETTE — The LaFayette Bulldogs might have won by three touchdowns Friday night, but the victory didn't come easy.
LaFayette needed a 93-yard touchdown run from Willie Baker and a 20-yard touchdown pass from Tazarius Towles in the fourth quarter to shut the door on a tough Horseshoe Bend team in a 42-21 region victory.
"Perseverance, that's what I have to say about [the team]," LaFayette head coach Juan Williams said. "We didn't quit. I give Horseshoe Bend credit. They fought hard. Their kids are hard and we knew that. I think our guys took it lightly at first and they really heard us in the end. We didn't have a great game, but we won't complain about a win."
Vinay Singh was a key player for LaFayette in all three phases of the game. He scored three touchdowns — one receiving, one punt return and one interception — to lead the way for the Bulldogs.
Singh returned Horseshoe Bend's first punt of the night 65 yards for a touchdown. On the next drive, he picked off a pass and returned it 38 yards to give LaFayette an early 14-0 lead.
"[Singh] played the game," Williams said. "He played what he said he was going to do. As a coach when a kid comes to you early...and you start visualizing what you can do, sometimes it comes true for you. He played great tonight and did what we asked him to do. That's all we can ask for."
After the visiting Generals answered with a scoring drive that ended with a 2-yard touchdown run, LaFayette found the end zone again on a 64-yard run from Joshua Combs.
LaFayette's offense slacked off in the second quarter and couldn't add to its lead, despite getting another interception on defense. Horseshoe Bend, however, opened the quarter with its second touchdown of the night.
Horseshoe Bend opened the third quarter and held possession for over five minutes, but came up scoreless thanks to a missed field goal. LaFayette had better results in less time and by taking a bigger risk — on fourth-and-10, Towles hit Singh in the end zone for a 36-yard touchdown to put the Bulldogs up by two scores again.
The hosts got their massive 93-yard touchdown run from Baker midway through the fourth quarter, but it was immediately answered by a kick return touchdown of the same distance by Horseshoe Bend. LaFayette recovered the ensuing onside kick and closed the scoring with Towles' 20-yard touchdown pass to Combs with 4:08 remaining.
Now LaFayette will be looking to add another win as it makes a push towards the playoffs. The Bulldogs will face Fayetteville away from home next Friday.
"We've got to play better," Williams said. "We've got to pay more attention to detail. We've got to coach better and just keep our eye on the prize."
LaFayette 42, Horseshoe Bend 21
LAF — Vinay Singh 65 punt return (conversion good), 11:30
LAF — Vinay Singh 38 interception return (kick failed), 9:26
HSB — Gavin Brazzell 2 run (conversion failed), 4:16
LAF — Joshua Combs 64 run (kick failed), 0:50
HSB — Brandon Tidwell 5 carry (kick good), 8:52
LAF — Singh 36 pass from Tazarius Towles (conversion good), 2:12
LAF — Willie Baker 93 run (two-point good), 6:12
HSB — Gavin Brazzell 93 kick return (conversion good), 5:52
LAF — Combs 20 pass from Towles (conversion good), 4:08