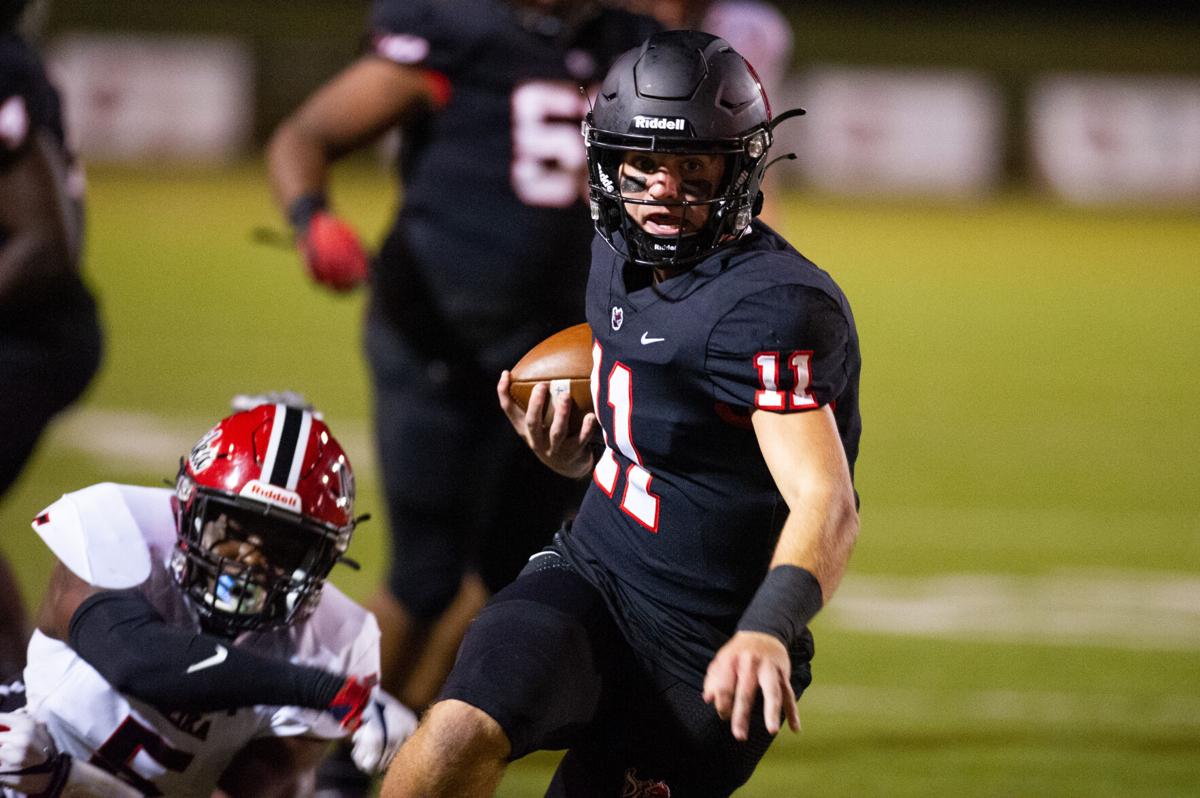 PHENIX CITY – In Friday's rivalry showdown with Opelika, Central-Phenix City quarterback Caleb Nix demonstrated how dangerous the Red Devils' passing attack can truly be.
Nix took turns connecting with his teammates, as the senior threw three first-half touchdown passes to three different receivers to fuel Central's 38-7 victory.
The win — which featured 433 total yards from Central — gave the Red Devils their longest winning streak over the Bulldogs since 1964.
"I think that's the way it's been all year. All year we've had different guys step up making plays, and I think that's the big difference between this year and last year," Central head coach Patrick Nix said. "We've got so many guys that are making plays. Caleb's playing so good and finding the guys and making plays.
"When you have that kind of diversity and different guys that are doing it, it's hard to double anybody or anything like that. It's been really good."
As potent as the Red Devils' passing game was Friday, they started the action by grinding out yards on the ground.
Central (6-0, 3-0) went to work on its second drive by picking up 40 yards over five plays. Karmello English ended the possession with seven points on a 4-yard run with 7:01 left in the opening quarter.
English went back to work with Nix's help early in the second quarter.
With Central leading by 10 after Ethan Paul's 30-yard field goal late in the first quarter, Nix executed a run-pass option to perfection and spotted English well past the Opelika defense. Nix lofted the ball to English, who easily made the catch and raced to the end zone for a 29-yard strike.
Central kept rolling after English's second score and rode running back Jaimel Johnson's strong runs well into Opelika territory. Nix ended this drive with a bang by rolling to his right and firing toward Tommy Griffin Jr., who made the catch over an airborne Bulldog for a 20-yard score.
Griffin's touchdown catch pushed Central to a 24-0 lead with 4:21 to go until halftime.
Opelika (3-3, 3-0) answered Nix's second touchdown pass with its best drive of the first half.
The Bulldogs piled up quick yards on Shawn Jones and Kaden Cooper's well-timed receptions. Cooper put Opelika on the board on the play's third drive with a 4-yard run with 3:57 to go until halftime.
Cooper had 16 carries for 60 yards and one touchdown in the loss.
As impressive as the Bulldogs' first scoring drive was, the Red Devils didn't let the good feelings linger long.
Nix immediately led Central down the field when he and Marquevious Terry delivered the play of the first half.
Nix spotted a window to throw into and took a chance by sending the ball toward Terry, who was surrounded by Bulldogs. Terry rewarded his quarterback by reaching out to make the difficult grab and outrunning all defenders on a 50-yard race to the end zone.
Nix's third and final touchdown pass of the first half handed the Red Devils a 31-7 lead with 2:38 to go until halftime.
Nix ended the night by going 11-of-17 passing for 169 yards and three scores. He also had six carries for 55 yards.
The Bulldogs and Red Devils traded possession after possession to little avail in the second half.
The most notable second-half highlights came from Central running back Romello Green, who took 15 carries for 88 yards in the victory. He ended his night with a five-yard rushing touchdown with 10:15 to go in the game.
Opelika walked away with 173 total yards at game's end.
"We've played great defense all year. We did it again tonight," Patrick Nix said. "Defensively, we've got a lot of talent and very good coaches. We've been playing really good."
Both teams will be on the road next week as they return to region play. Opelika will travel to Russell County, while Central will play at Auburn High.
Although the matchup between Central and Auburn is a highly-anticipated one, Patrick Nix made it clear he's not turning the page to the Tigers just yet.
"I'm very excited we beat Opelika. I'll worry about that tomorrow," Patrick Nix said. "I'm going to enjoy tonight."
Central-Phenix City 38, Opelika 7
CEN — Karmello English 4 run (kick good), 7:01
CEN — Ethan Paul 30 field goal, 3:23
CEN — Karmello English 29 reception from Caleb Nix (kick good), 9:16
CEN — Tommy Griffin Jr. 20 reception from Caleb Nix (kick good), 4:21
OPE — Kaden Cooper 4 run (kick good), 3:57
CEN — Marquevious Terry 50 reception from Caleb Nix (kick good), 2:38
OPE — Romello Green 5 run (kick good), 10:15