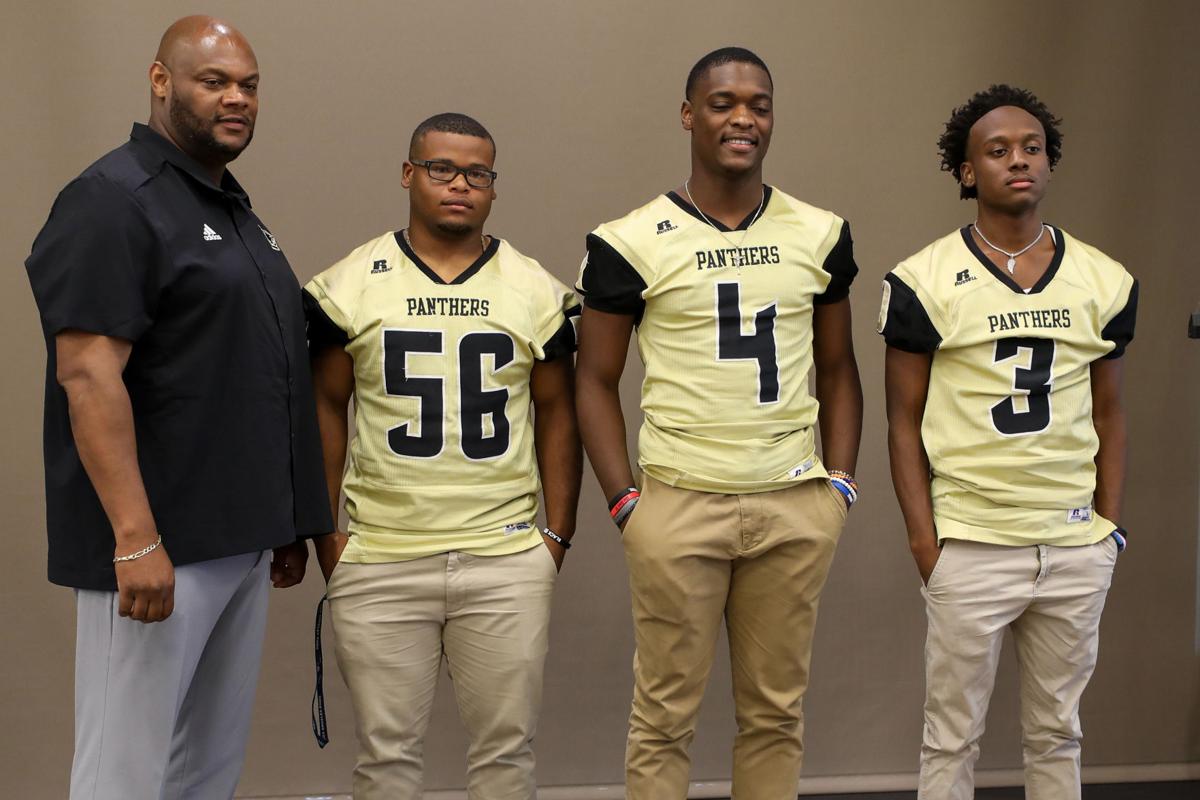 "We're seeing a lot of leadership. They're working extremely hard. They're not complaining about the heat. Those are things you look for in championship-caliber players … All they were saying were things about the Maplesville game and how they went into that game taking it for granted and taking things lightly. They said they're not taking anyone lightly this year."
-  Clifford Story, Lanett head coach
OFFENSE
Lanett returns All-State quarterback Kristian Story, but the pieces around him are the real question marks for 2019.
Kristian, who recently committed to Alabama, has more than proven himself on the football field. The same cannot be said about his receiving corps, which lost two huge targets in Oregon signee Trikweze Bridges and Alabama State signee Tifton Dobbs.
Lanett head coach Clifford Story — Kristian's father — figures the passing game will be just fine this fall. Story pointed to Quay Houston, Tray Abner, Larontavious Hurston, Wadley transfer Kadarius Zackery and youngest son Caden Story as ideal pieces for the revamped passing game.
Most of these players may lack the size of the 6-foot-6 Dobbs or the 6-foot-3 Bridges, but they make up for it with their speed.
"We've had quite a few guys who have stepped up in those roles," Story said. "These guys are going to be very elusive. They've got plenty of speed, and they're going to be able to make plays."
Story also pointed to offensive linemen Gabe Cartwright, Eric McCants, Zyon Walker and Dametrious Johnson as guys who need to step up to bolster a line featuring returning starters Kelvin Zachery and Perry Jones.
Of course, the whole equation is made easier with Kristian's skillset. More than once last season, Kristian put his speed and his strong arm on display and put the Panthers in position to add seven more to the scoreboard.
The most dangerous part for opponents is Kristian feels better at quarterback than he has ever before.
"I feel like I'm a lot more comfortable," Kristian said. "In 10th grade, I was really like thrown into it. I wasn't really sure what to expect in being the starting quarterback. I handled that really well. Last year, I feel like I grew more as a passer — my stats didn't say it, but I feel like I grew more mechanically and from the mind standpoint of it.
"This year, I'm just trying to improve on all that."
DEFENSE
Story's biggest concern this offseason has been replacing the likes of D'Terrion Glaze and Lavantae McCollough on the defensive line. Story expects big things from Jones and McCants playing both ways as well as Caden, who will play defensive end for the first time.
Story also looks to use Zyon Walker as well as Quin Harris, a 6-foot-2, 315-pounder who didn't play last year but will fill the nose guard role.
"We found some guys that have played some last year but weren't ready to start," Story said. "This year by them getting an opportunity to start, you can see the difference in their energy and the way they go about practice now. We're really excited about this team."
The Panthers return two key linebackers in Zachery and BJ Smith, and Story set the bar high for rising sophomore Alanteo Cheeks at the position. Austin Moody, D'Quez Madden, and Dametrious Johnson are also expected to make serious contributions at linebacker.
Lanett has established itself as a perennial state championship contender. If the team can mitigate the loss of Bridges, who truly starred at safety, the Panthers will be right in the thick of things in Class 1A.
"I just want them to continue to compete. That goes a long way with me," Story said. "I want them to understand what it takes to be champions. A few of them have a championship pedigree, but they were just on the team and didn't really play. Some of them now have been given the opportunity and have to go ahead and grow up a little bit."