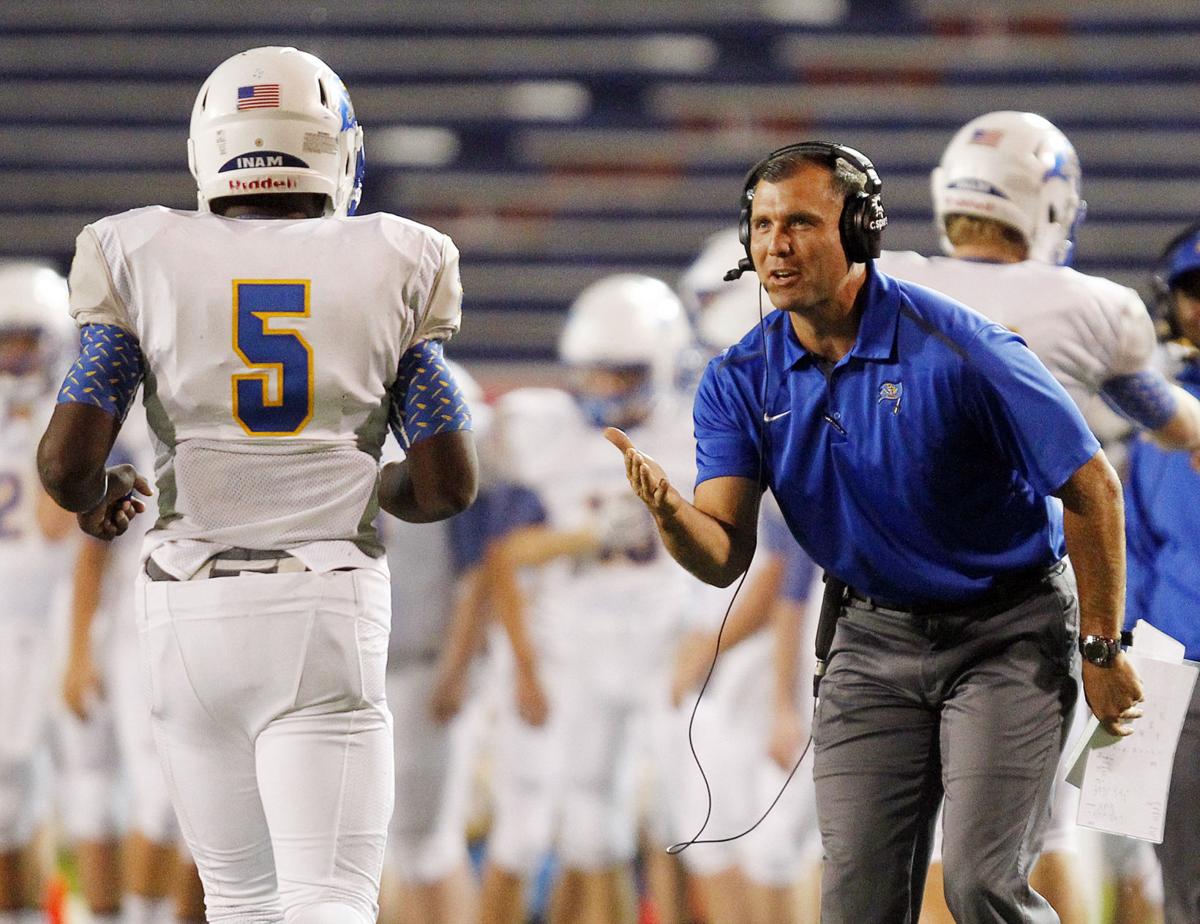 After a search that lasted just more than three weeks, Auburn High has found a new head football coach.
Former Fairhope coach Adam Winegarden was officially approved as the program's new coach and director of football operations on Thursday afternoon. The Auburn City Schools board of education unanimously approved of the hiring of Winegarden at the recommendation of superintendent Karen DeLano.
"Several things stood out about him," DeLano told the Opelika-Auburn News after the brief board meeting. "He's a successful coach; he has a record of success. … He's a man of high character. He believes in developing young men with high character.
"He's very much a man of integrity, understands football and understands that we want to win."
Winegarden will earn a salary package that totals $123,000 annually, making him the highest paid high school coach in Alabama. He will receive a $91,000 base salary as director of football operations — overseeing all ACS teams from grades 7-12 — as well as a $32,000 coaching supplement.
His salary surpasses Thompson head coach Mark Freeman for the highest in the state. Freeman, who was hired at Thompson in December, has a salary of $121,000 according to AL.com
Winegarden becomes the 23rd head coach in Auburn's 105-year history, succeeding former coach Tim Carter, who resigned on Jan. 13 after nine successful seasons. About 80 people applied for the position, and Winegarden was one of six candidates to officially interview for the position, though DeLano said the opening was discussed with a few others.
Winegarden has seven years of head coaching experience, including five in Alabama, going 49-11 during those five seasons. The 37-year-old Tennessee native spent the last three seasons at Fairhope, where he went 28-8 and took the Pirates to the playoffs all three seasons.
His team's record improved each season.
In 2012, the Pirates went 8-4 and advanced to the second round of the Class 6A playoffs. The following year they went 9-3 and again moved to the second round. This past season, the Pirates went 11-1 in Class 7A, setting a school record for wins. Their lone loss came in the second round of the playoffs against Foley — the same team that bounced Auburn from the postseason in the opening round.
Under Winegarden, the Pirates reached their highest-ever ranking in program history, climbing to No. 2 in the ASWA Class 7A poll after their 5-0 start and holding on to that spot through the final rankings of the season.
"One thing that really stood out was his ability to rally a community around the football program," DeLano said. "A lot of people attend our games that don't have students; it's a community event. How he has involved community at places he has coached before is quite striking."
Prior to Fairhope, Winegarden spent two seasons at Hillcrest-Tuscaloosa, where he went 21-3. He went 9-2 his first year and then 12-1 with a trip to the Class 6A quarterfinals in 2011.
Winegarden began his career in 2000 at Dalton (Ga.) High as quarterback and receiver coach before taking over as head coach in 2008.
With the Tigers, Winegarden will have big shoes to fill in succeeding Carter — the program's winningest coach in terms of win percentage and No. 2 on the school's all-time win list. Carter went 84-25 in nine seasons, leading the Tigers to the playoffs each year, including the school's first-ever trip to the Class 6A state championship game in 2013.
Carter won four region titles and had four 10-win seasons during his tenure. Prior to Carter, the school had put together just one 10-win season in program history.
"The program has had a lot of success, and we want to stay that way, so that's certainly an expectation," DeLano said. "We expect him to be a good communicator, a good representative in this community. … I want a program of integrity, an organized program and I want supervision of kids and a well-disciplined group of kids, as well as coaches."
Tom Green is the High School Sports Reporter for the Opelika-Auburn News.