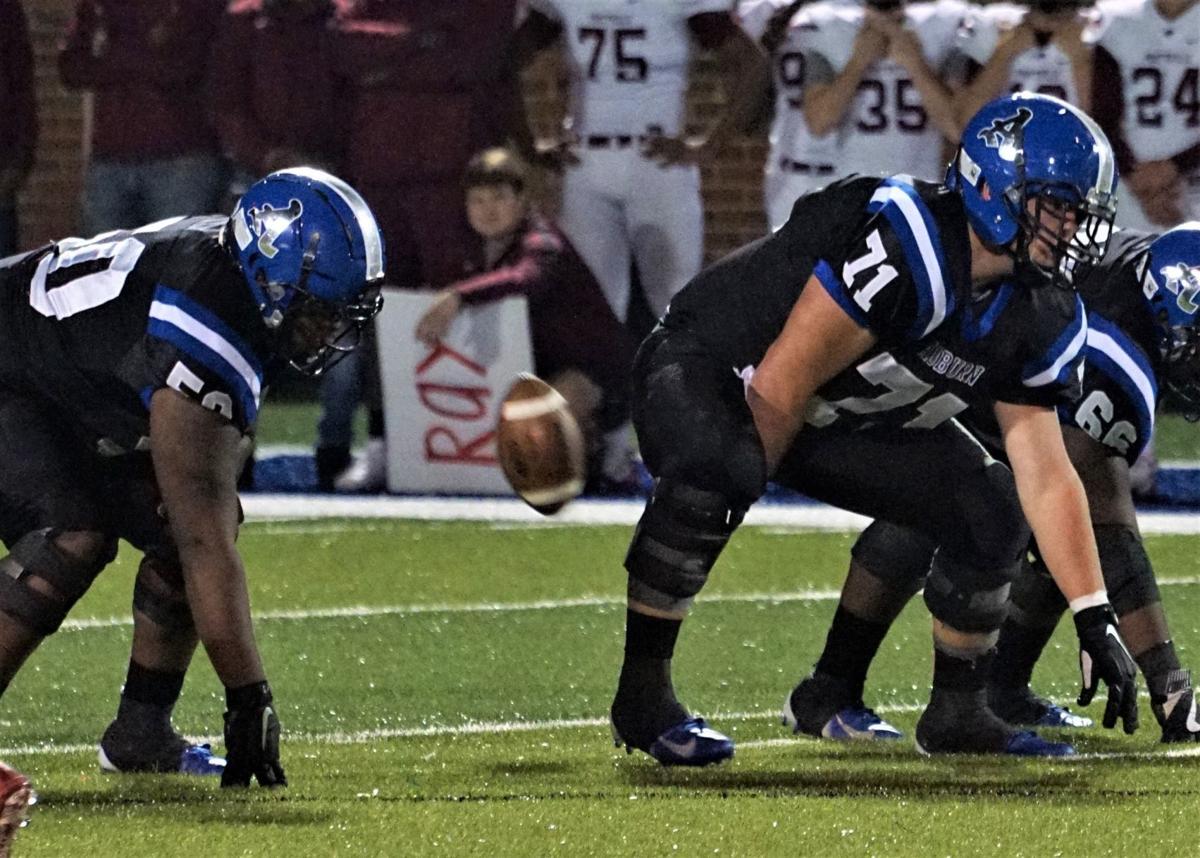 As the spring turned to summer, it was clear Auburn High offensive lineman Cort Bradley would have his pick of schools at the next level. On Saturday, Bradley decided that staying in state was his best bet.
Bradley committed to UAB and became the Blazers' fifth commit in the class of 2021. The 6-foot-4, 285-pound Bradley chose UAB after narrowing his options down to eight schools on May 22 with a list that included Air Force, Troy and Western Kentucky.
For Bradley — who expects to play guard or center in college — every aspect of going to UAB convinced him Birmingham was the place to be.
"I knew the program that (head coach Bill) Clark ran. I've been to camp three times. I know the coaches. I just know the standards that he holds for his program," Bradley said. "The biggest thing was my mom (Dr. Tonya Bradley) went to UAB for medical school back in the '90s. I would really like to go into nutrition. During this quarantine I've really enjoyed lifting with some of my teammates and just learning about eating and the nutrition side. I'd like to either go into that or orthopedic surgery.
"There's really no better place in Alabama to go into medical school and play really good football."
Bradley explained committing was the realization of so much work over the last few years, and that includes the process of deciding on a college during a pandemic.
Zoom and FaceTime calls became the norm with the various coaches interested in bringing Bradley on board, and luckily Bradley attended a junior day event at UAB prior to the quarantine. Additionally, the Blazers coaches stayed in constant contact with Bradley and his parents, and Bradley felt he and offensive line coach Richard Owens built a relationship through their text exchanges.
Bradley also did his own research on all the schools that offered him scholarships in order to figure out which made the most sense for him. As tough as deciding on just one was, Bradley was at peace when it came time to let UAB's staff know his plans.
"There were some really good ones. It was really hard to make a decision. I knew what was right in my heart, and it felt like home," Bradley said. "(Committing was) probably one of the best feelings in the world. All the stress from not knowing where I'm going to be is gone. Now, I can just go to practice and have fun. Now I can just go, have fun and play football the way it's supposed to be played."
Bradley's focus is now completely on Auburn's upcoming season. Given his strong play in 2019, that's bad news for the Tigers' opponents.
As Auburn's starting center last fall, Bradley put together the best season statistically among the team's linemen, as he graded out to 85 percent. He was a key piece on an offensive line that set the stage for an offense that averaged nearly 29 points per game and featured senior running back Aaron Diggs, who rushed for over 1,600 yards and was named an All-State first team player.
"He was extremely crucial. He can handle a nose man typically by himself. You always block everything from the inside out, so he's the point man in all the blocking schemes. He obviously did a tremendous job with that," Auburn head coach Adam Winegarden said. "I think they're getting a young man that can anchor their line of scrimmage. With him playing center for us, he's really the quarterback of the down men. He's just a very intelligent player who loves the game, has a great passion for the game and really has a nasty mentality inside."
Bradley said his excitement is through the roof about the 2020 season, saying the Tigers return 17 starters from last year and boast a senior class of 47 players. He said the friendships between so many players made 2019 one of the most enjoyable seasons he's had there, and the people coming back alongside him has them aiming high at Auburn's first-ever state championship.
Bradley still had plenty of work to do, but he made sure to enjoy the journey leading up to his commitment. All those early mornings, practices and weight-room workouts have paved the way to Bradley becoming a Blazer, and he was sure to not forget those who helped make it possible.
"I wouldn't be here without my family — my dad, my brother and my mom — and I wouldn't be here without coach Winegarden, coach (Dalton) Watson, coach (Tony) Ford, coach (Will) Dake or most of my teammates. They really helped me," Bradley said. "It finally felt like it paid off. Now, I just get to focus on playing my senior season and hopefully coming up big in the end."