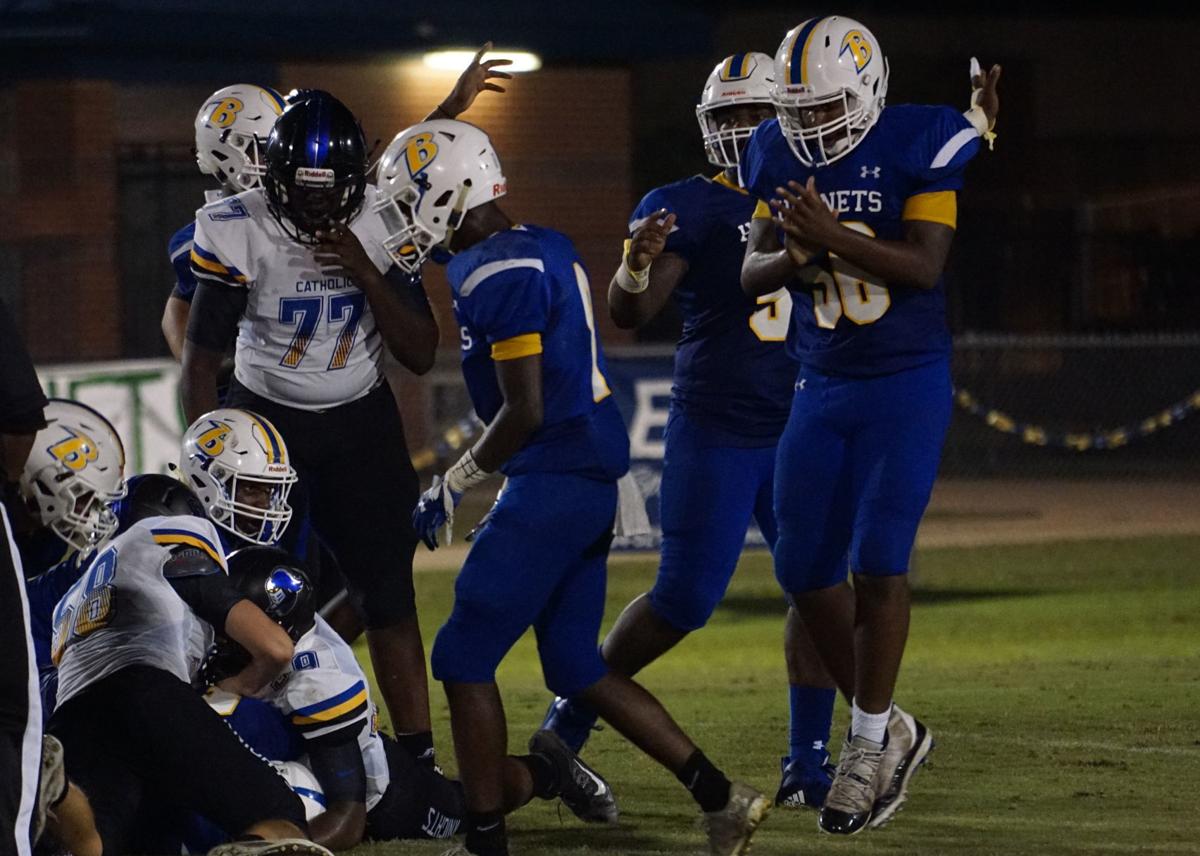 Beauregard defensive lineman Eston Harris could have easily gotten discouraged last year when he hadn't received any scholarship offers, but head coach Rob Carter told him if he kept working that one was coming.
On Thursday, that coveted first offer finally arrived, and it was by no means a small one.
Harris received an offer from Texas A&M, one that will likely soon open up the floodgates in his recruitment. The 6-foot-5, 265-pound rising junior has also received interest from several other schools, including Auburn, Georgia and Tennessee.
"It's been a long journey. I never thought I would get this offer anytime soon. I just kept working hard every day and knew I had to go do his work," Harris said. "It's a huge blessing to me from God. It's my dream come true to have my first offer from the SEC."
Carter said he was surprised at how abrupt Texas A&M offering was but added the occurrence had been in the making for quite some time. The seventh-year Beauregard head coach explained he's had conversations with current Texas A&M assistant Dameyune Craig since about the time Harris was a freshman, and Carter was always sure to mention that he had an up-and-coming athlete who was bound to stand out.
Harris is coming off his first season of starting for Beauregard with the bulk of his time spent at defensive end and defensive tackle. He held his own against some of the top competition in Class 5A, as he racked up 77 total tackles — including 53 solo stops — along with eight tackles for loss and three sacks.
In Carter's opinion, there's a number of traits that make Harris stand out.
"Naturally, it's his size. He came to us probably a 6-3 or 6-4 in the eighth grade. That's just God-gifted to him. It's also his work ethic and his speed for his size. He's 265 pounds at 6-foot-5 ½ and can move well," Carter said. "He's got great character as a young man. He's got a 3.5 or better GPA, and he hasn't taken the ACT test yet. We knew that as long as he did the things he was supposed to do and what he was in control of that those offers were going to come."
Harris explained he was already motivated to work hard before the offer, but getting it makes him even hungrier. He said he's spent the offseason working on every aspect of his game, namely his speed, hand and hip placement, endurance, footwork and being a downright dominant player.
Carter said he envisions Harris being a leader during the 2020 season and added that he'll play defensive end as well as offensive tackle for the Hornets. He explained that the team will give him more breathing room to come out at times on offense, but they have to do everything they can to keep him on the field when they're on defense.
Carter feels pretty confident that the list of schools interested in Harris is only going to grow from here.
"I think my phone is fixing to be busy," Carter said.
Harris has a good sense of what he's looking for in a college, explaining that he wants to find a school that will make him a better football player but more importantly a better person. He wants a school that feels like home and can help him find the best version of himself.
Harris still has his sights set on making the most of his junior season, saying that his focus is on dominating every player this fall and helping Beauregard win another state championship.
An uptick in recruiting will go hand in hand with both of those goals, and Harris knows as well as anyone that now is not the time to let up.
"This is just the beginning," Harris said. "There's many more to come and a lot more work to be done."
Be the first to know
Get local news delivered to your inbox!