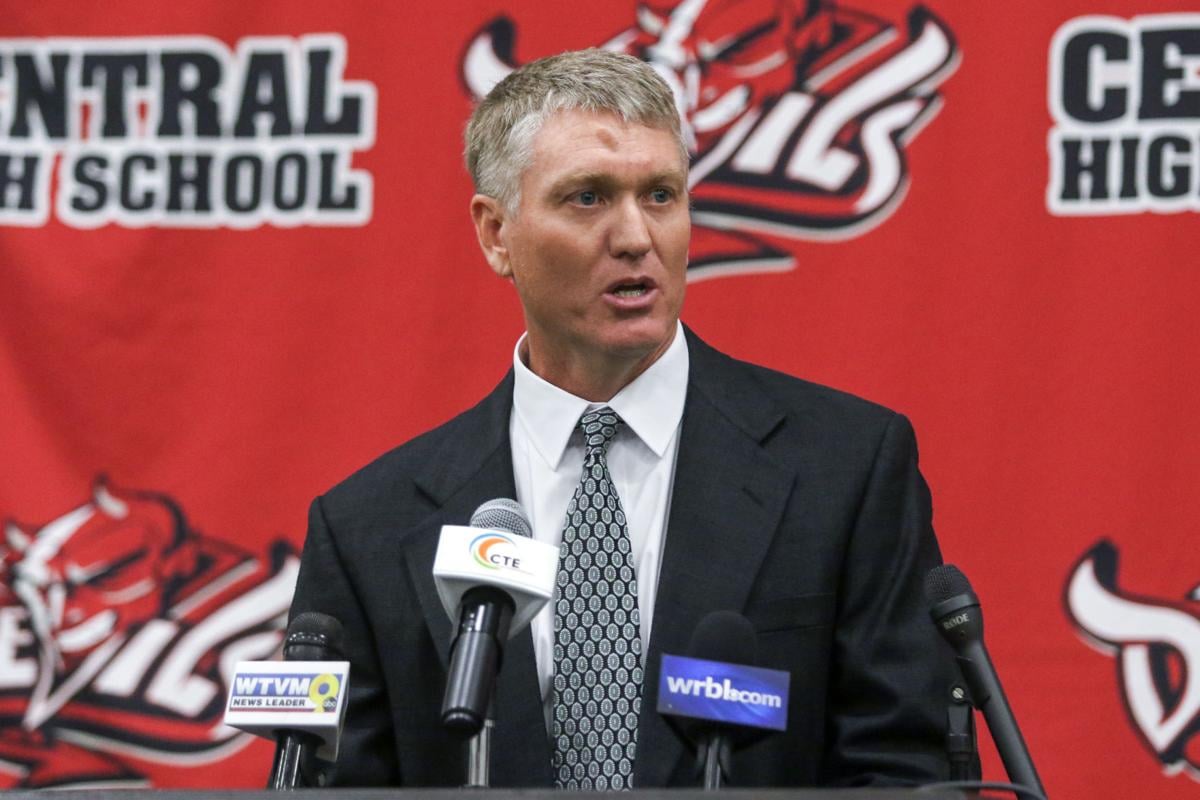 PHENIX CITY — Patrick Nix has fielded countless calls over the years about new head coaching opportunities, but he maintained he would not accept a new job that took him and his family farther away from Auburn.
On Tuesday, he made a move much, much closer to home.
Central-Phenix City hired Nix as its new head football coach on Tuesday. Nix, who spent the last three years at Pinson Valley, replaces Jamey DuBose, who resigned on Jan. 7 to become the head coach at Lowndes (Ga.) after six seasons.
"I think for us as a family, it checked all of our boxes in being an opportunity where we get to come, truly build relationships and build into young men at a place where they want that and a place where they expect that. It's a place where academics are important and are really good. It was very important for us and our kids and important for me," Nix said. "It's an opportunity to obviously come and be a part of a successful program that has a lot of expectations but also has all the needs you have to have, the players you have to have and the resources, the administration and the coaches you need to be truly successful at the highest level.
"Our expectation is to truly be successful at the highest level — not just in this state but in the entire country."
Nix, a former Auburn University quarterback and the father of Auburn rising sophomore quarterback Bo Nix, brings a wealth of coaching experience with him to Phenix City.
Nix just completed his third season at Pinson Valley and led the Indians to a 38-4 record in that time. Nix's first two seasons at the helm proved unforgettable, as the Indians — with Bo playing quarterback — went 15-0 in 2017 and 13-1 in 2018 and won Class 6A state championships in both seasons.
Prior to his arrival in Pinson Valley, Nix spent four seasons at Scottsboro. He accrued a 28-18 record there, which includes a 12-1 campaign in 2016.
Nix's success in the state made him an obvious candidate for Central's job, per Phenix City school superintendent Randy Wilkes.
"On Tuesday of last week, we — (Central principal Tommy Vickers) and I — began in earnest in search for a new football coach for Central High School. As we connected across the state — and outside of the state — there was one name that was on top of everyone's list," Wilkes said. "It was that person who we sought out for this job. … He believes it is his call to develop young men spiritually, academically, emotionally and of course athletically."
Nix turned to coaching in high school after spending 16 years coaching in the collegiate ranks.
Shortly after his playing career at Auburn ended, Nix served as an assistant at Jacksonville State from 1996 to 1998. He was the head coach at Division II Henderson State for two seasons, coached wide receivers at Samford in 2001 then joined Chan Gailey's staff at Georgia Tech in 2002.
Nix coached with the Jackets for five seasons before being hired as Miami (FL)'s offensive coordinator prior to the 2007 season. He remained on staff through the 2008 season.
After one year away from coaching, Nix joined Charleston Southern's staff as a receivers coach in 2010. He stayed on with the Buccaneers for three years before leaving for Scottsboro.
A native of Attalla, Nix stepped in as Auburn's quarterback as a sophomore in 1993 following starter Stan White's injury against Alabama and helped the Tigers cap off a perfect 11-0 record. He took over the starting duties in 1994 and received the team's Pat Sullivan Award for offensive player of the year and the Cliff Hare Award as the school's student-athlete of the year during his time behind center.
Nix finished his collegiate career as the Tigers' passing efficiency leader while passing for 4,957 yards and 31 touchdowns.
Nix is the son of longtime high school coach Conrad Nix, who retired after the 2009 season with 300 career victories, two state championships and 41 seasons as a head coach. Nix is married to Krista Chapman Nix, and the couple has four children: Emma, Bo, Caleb and Sara.
Nix explained that getting closer to Bo and Emma, who are both at Auburn University, was a factor but not the primary factor that made the Central job a must-have for him.
Nix takes over one of the most successful Class 7A programs in recent history. Central has won 56 games over the last five seasons, has captured six consecutive region championships and played in the last two Class 7A state title games. Central won the championship in 2018 for the program's second-ever title and the first since 1993.
Nix said he's already getting settled in at Central, and first thing Wednesday morning he'll meet with his new team, continue to meet with his assistant coaches and get a sense of where the program is at.
Nix's hiring at Central brings one of Alabama's most successful coaches over the last few years to one of the most successful programs. As far as he is concerned, his players and the Red Devils' fans shouldn't expect either thing to change.
"We'll have great kids who work their tails off, play extremely hard and do things the right way," Nix said.