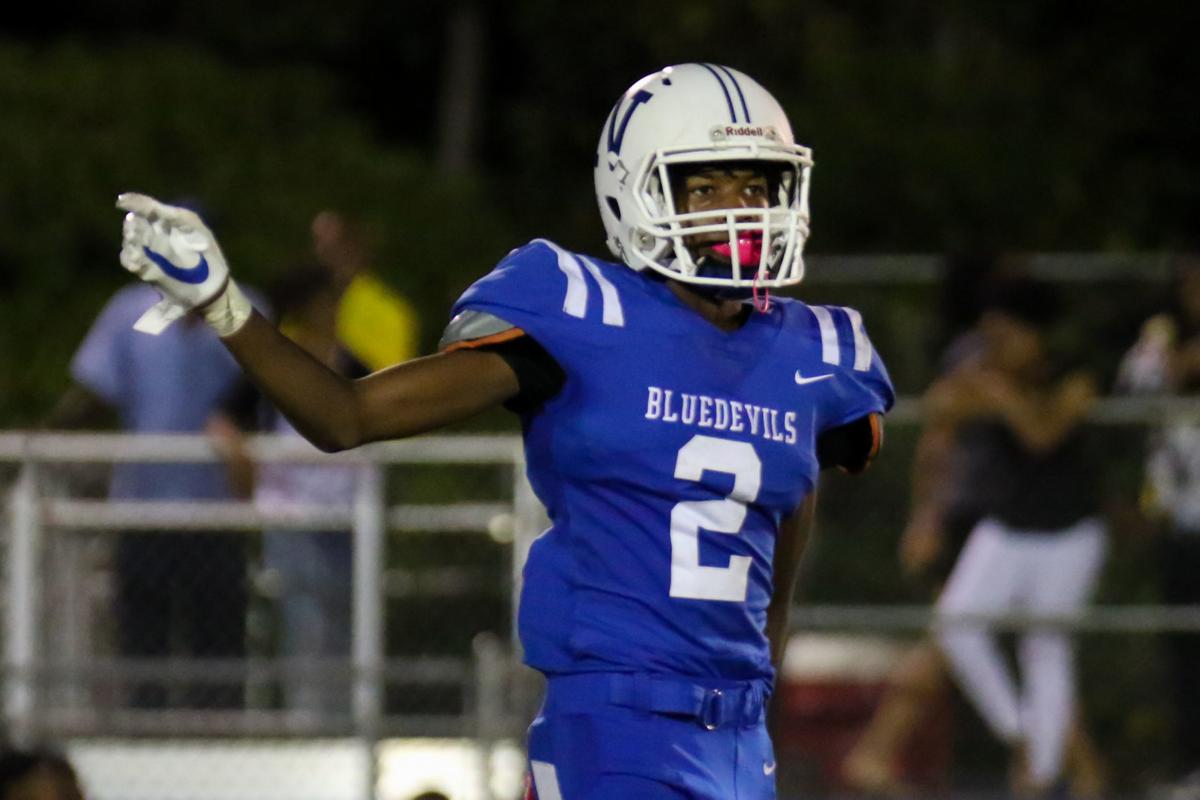 Thanks to his focus in the classroom, the question for Notasulga senior Antonio Green wasn't if he would play college football but where. After a lot of thought and consideration, Green is headed east.
Green will play wide receiver at LaGrange College in Georgia, choosing the Panthers over a handful of other options including a walk-on opportunity at Alabama State. Green's decision comes after helping Notasulga reached the second round of the Class 1A playoffs in his first season playing with the Blue Devils.
"I got a better opportunity to play at LaGrange instead of walking on. Plus me and the offensive coordinator (Jarred Rutherford) have been connecting very well," Green said. "It's something I've always dreamed of. It's a blessing. It feels great to get a chance to show what I'm capable of.
"It was a hard decision, and I thought about it every day and about if that's where I wanted to go. I'm just making sure that's the right place for me to go."
The 6-foot-6, 170-pound Green transferred to Notasulga from Booker T. Washington in Tuskegee for his junior year, which meant he would not be able to play until his senior season.
Green played several different positions for Notasulga in 2019, including quarterback, wide receiver, cornerback and safety. When the season ended, Green had seven receptions for 141 yards, 30 passing yards, nine tackles and one forced fumble for a seven-win Notasulga squad.
In Green, Notasulga head coach Anthony Jones had a player that was willing to do whatever to help the team compete.
"He was a guy that we could count on. His 6-6 frame allowed us to throw jump balls up to him. He played quarterback for us too, and he was a good quarterback. He was a running quarterback at that," Jones said. "He was just a guy we could count on as well as his counterpart Dee Brown. They really wanted to have a good senior year, and they just did what I needed them to do when they were on the field. When the play needed to be called, he would make the play.
"They are getting a guy who leaves it all on the field. He leads by example. He's a good kid who comes from a good home. He's a smart kid with a nice IQ. They're getting a good guy, and I'm glad that he's getting an opportunity to play football again."
For Green, his senior season was all about accomplishing as much as he could as a Blue Devil.
"It means a lot to me. I didn't get a chance to play my junior year when I first transferred to Notasulga. My senior year was the only chance I got to play. I really had to work to try and show my best ability in that one season," Green said. "(Playing different positions) was very important because I knew what the team needed. Whenever they told me to play a position, I never complained about it. I just went out there and did my best at it. I liked playing quarterback and everything. I can play whatever the coach needs me to play."
Green talked about the work it takes to go to the next level, explaining that without a commitment to schoolwork he would not be in this position. He thanked everyone at Notasulga for supporting him throughout his time there, and credited his mother, Christian Milner, and his uncle, Deandre Arnold, for doing everything they could to set him up for success.
Green struggled with a final decision before deciding on LaGrange College. Now, his focus is preparing as much as he can to ensure he succeeds once he becomes a Panther.
"I'm looking forward to feeling like I'm at home and working hard to help the team in any way possible," Green said.
Be the first to know
Get local news delivered to your inbox!