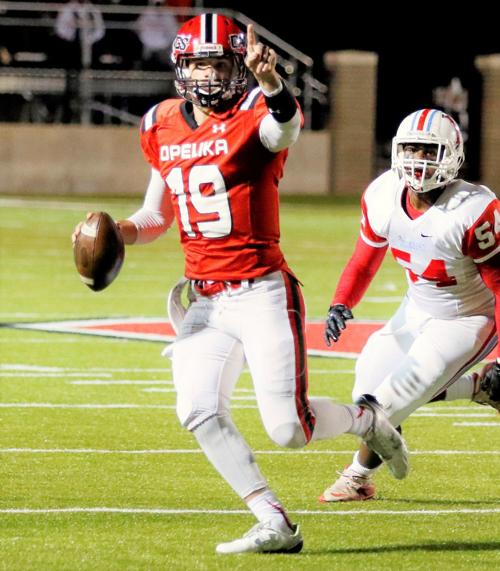 Every college football player in the country faced unprecedented challenges this spring and summer in preparing for the season in the midst of the coronavirus pandemic. A select few had the added challenge of doing so as a transfer to a new school, chief among them being Opelika alum Jake Bentley.
Bentley was dealt a tough hand during the pandemic in his move from South Carolina to Utah, but true to form he kept himself busy and did everything in his power to get acclimated to the Utes football program. Now, he's just counting down the days until he can get back to Salt Lake City and help Utah chase a Pac-12 championship.
"I think the hardest part is kind of getting to be there for the first three practices and then having to come back home. It was definitely tough for sure," Bentley said. "I think technology these days definitely helps out with everything. I got to do the Zoom meetings and everything. I was learning what to do on paper, and I think knowing how to do it is going to be something that has to come when we get back. We're just trying to do as much as we can of learning what to do on paper."
The last year has been nothing short of a whirlwind for Bentley.
Bentley had high hopes entering his senior year at South Carolina, but his plans were decimated in the Gamecocks' season opener against North Carolina. He suffered a mid-foot sprain in the Gamecocks' 24-20 loss to the Tar Heels, an injury which caused him to have surgery and miss the rest of the season.
For Bentley, the hardest part of the ordeal was not being able to help his team as the Gamecocks suffered through a 4-8 season — their worst since 2015.
"The biggest thing was not being out there on the field with the guys, not being able to compete with them and just kind of having to take a backseat and do what you can from the sidelines. That's only so much," Bentley said. "Maybe the hardest thing was just seeing things that I know that I could have affected and maybe had a more positive impact on. Not being able to do that was tough, especially the first couple weeks of having to be at home and watching games. I couldn't even be on the field. That was definitely tough. I definitely learned a lot about myself through that time and was able to learn a lot on and off the field."
Even though he was limited, Bentley said he learned that he had to find purpose in something while he was sidelined. Getting healthy was his top priority, but in the meantime he also began finding new ways to get better in the film room and the weight room as well as on the field once he was cleared to throw again. Bentley took the personal setback as a chance to slow things down and evaluate the situation — something a starting quarterback in the SEC doesn't often have the chance to do.
After the season, Bentley announced he would transfer from South Carolina and spend his redshirt senior season somewhere else. As difficult as the decision was to leave the Gamecocks — where his father, Bobby, is an assistant coach — he said he was eager to find a place where he could grow as a football player and a person.
According to Bentley, he found that place in Utah.
"If you know anything about Salt Lake and the culture out there with all the different ethnicities and the way they kind of function there, it's definitely not like the South. I wanted to be able to experience a new culture — a new landscape. Here, we think we have mountains until you get out there and see some real ones. That was cool," Bentley said. "As far as a football player, (Utah offensive coordinator Andy) Ludwig recruited me hard at Vanderbilt when I was first getting recruited out of high school. I really liked him then. Getting this opportunity to play for him again and knowing the success he's had with football and with quarterbacks was what really drew me there, too."
Bentley was just getting his feet wet as a Ute when the pandemic forced practice to shut down and the players to go back home. He said he's stayed busy since then, mostly watching film provided by Ludwig. He's also been working with different people locally and having them mimic the routes he'll be throwing at Utah in order to get used to the playbook.
The unexpected downtime has also allowed Bentley and his family to show off their craftsmanship ability. In April, he and his older brother, Shuler, saw a social media post where someone built a weight bench out of wood and decided to try to do so on their own. In no time flat, the duo had themselves a useful piece of workout equipment to make sure they stayed in shape while they were at home.
"We had some extra wood laying around. I think my dad was going to do a project and ended up not doing it, so we just had some wood that maybe wasn't supposed to be used to build a rack. I think we just doubled everything up. Me and my older brother Shuler got a little skill saw — a little hand saw — and my dad (Bobby) and my older brother were kind of nailing everything together and screwing it in," Bentley said. "It ended up being pretty good for us. We use it about every day. It definitely was one of the best things we did during this quarantine."
Bentley explained he wasn't very apprehensive about going to Utah, and he said that was mostly thanks to his experience at Opelika. He said everyone within the program was accepting and receptive when he joined the Bulldogs as a sophomore after moving to town from South Carolina, and the relationships there are a big reason he still considers it his hometown.
Bentley was part of a great deal of success at Opelika — the Bulldogs went 12-1 in his lone season as a starter — but the wins aren't what immediately come to mind when he talks about his two years on the team. Instead, Bentley pointed to the camaraderie that existed between the team and how everyone would do whatever it took to help the team compete.
"It was the togetherness of our teams and just knowing that we were all in it together," Bentley said. "I knew that I've got James Moss running on a deep post route, and I can throw it anywhere and he's going to go get it because he wants what's best for the team. He didn't want to catch a touchdown because he wanted what was best for him; he wanted it to do what was best for the team. That was just kind of the overall mood and mindset of the team and our program when I was there, and I think it's still that way today.
"It's a brotherhood of Opelika. You see guys who played there before still coming back and doing what they can. That's really cool to see and to see how close that community is and how close it is with the football team."
Bentley has thrown for 7,527 yards and 55 touchdowns in his collegiate career, but he's eager to take his game to the next level in Salt Lake City. The Utes were able to return to offseason workouts together on June 15, and for Bentley it wasn't a moment too soon.
"I am so ready to get back and just get back to what I love doing. That's being on the football field and being out there with the guys," Bentley said. "The first practice was weird enough — weird in a good way. I felt normal again for the first time in a while. I'm sure that first Saturday will feel the same way. I'll be back in a place that feels normal.
"I just can't wait for it — to be back out there and doing what I love doing."
Be the first to know
Get local news delivered to your inbox!