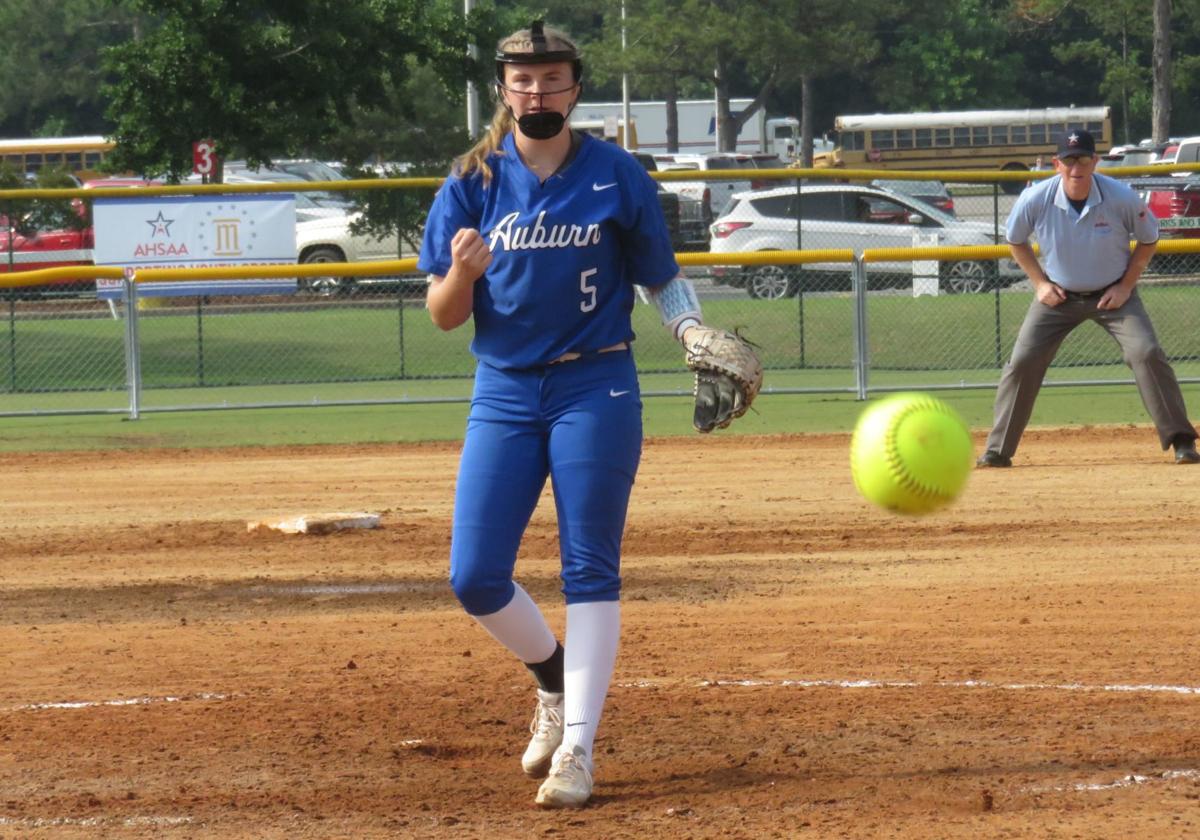 As an Auburn High softball player, Hannah Pitts has made it a habit of dominating every time she steps in the circle. This weekend, Pitts proved for the umpteeth time that she can dominate outside of Auburn, too.
Pitts put together a stellar string of games as part of the Gold Coast Hurricanes travel softball team during a 34-team USSSA Fastpitch tournament in Viera, Florida. The right-hander's success ended with a bang, as she pitched a complete game in the tournament's 16U WFC championship game to help the Hurricanes win it all to earn the tournament's MVP honors for herself.
For Pitts, who has played with the Hurricanes since fall 2018, helping the Hurricanes stand out as the tournament's lone undefeated team was nothing short of a worthwhile experience.
"It meant a lot that I could play such a vital role in my teams' performance this weekend. We worked hard preparing for it, so my team knew we could win it all," Pitts said. Honestly, (winning the tournament) was the best feeling in the world. After the win, we ran out on the field and hugged each other. It meant a lot to all of us that all the preparing we had done — all the blood, sweat and tears — actually paid off. It was an unbelievable experience."
Pitts came through in the clutch to help Gold Coast become the first 16U Champion from the state of Florida. She threw all eight innings of the Hurricanes' showdown with a team from Virginia, and when it was all said and done she and the Hurricanes walked away with a 3-2 victory.
As much as getting to play meant to Pitts during a summer in which playing sports wasn't a guarantee, being named Most Valuable Player was effectively the cherry on top.
"It was an honor to receive the award. There were so many great softball players there, but I was the one chosen to receive it. It meant a lot that I was able to receive an award on that big of a stage," Pitts said. "After the championship game, one of the USSSA Pride softball players handed out the awards. It was such an honor that I was presented with the all-tournament MVP award by such a great softball player that I have looked up to."
Pitts' strong summer follows a spring that was promising but was ultimately cut short.
Pitts entered 2020 after missing most of her sophomore season due to an injury and pitched well for the Lady Tigers, throwing 34.2 innings with a 3-2 record along with 30 hits allowed, 48 strikeouts and a 2.02 ERA. The season was ultimately ended in mid-March due to the coronavirus, but Pitts was awarded afterward by being named to the AHSAA's North-South All-Star Game roster.
Pitts plays for the Hurricanes along with Auburn teammate Olivia Nay, who hit .393 and went 3-0 with 10 innings pitched this spring. For Pitts, getting to play with Nay throughout the year has been an enjoyable experience.
"It's so much fun because we get to be with each other year round playing softball," Pitts said. "It's great knowing that she is always going to be by my side no matter what tournament or game we are at, whether it's school or travel ball."
Pitts, Nay and the rest of the Hurricanes have plenty of softball left ahead of them this summer. The team's next tournament is for the Florida state title July 10-12; after that, there's a tournament in Atlanta July 17-19. The summer session will end in South Carolina July 26-31 for the Junior Olympic Cup Nationals.
Be the first to know
Get local news delivered to your inbox!