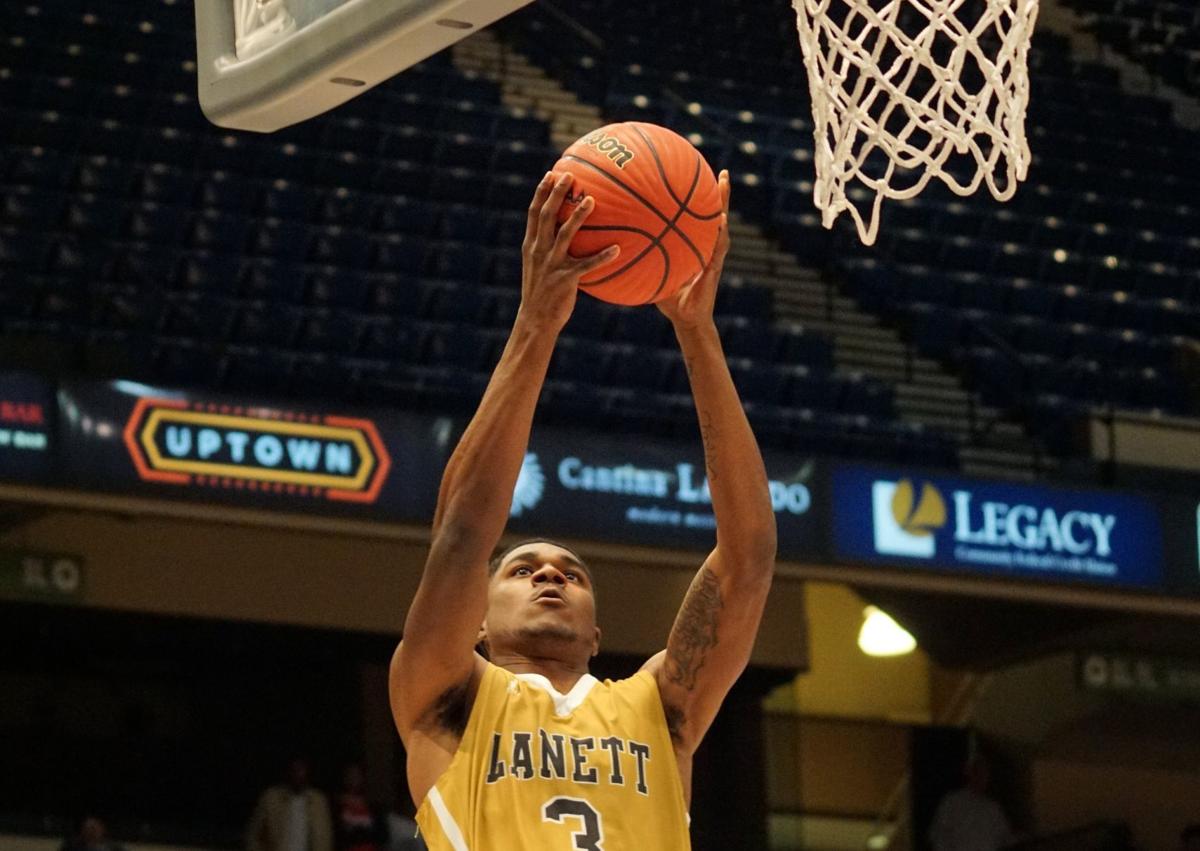 Two years after leading the Lanett Panthers to three-straight state championships, Anquaevious Pollard is bound to play Division-I basketball.
Pollard secured his spot at the next level on April 15 when he committed to Nicholls State. The 6-foot-8 rising junior will arrive in Thibodaux, La., after spending the last two seasons at Shelton State Community College in Tuscaloosa.
"Man, they're getting a jewel. He's a hard-worker. You're talking about a kid who understands the game. He's a smart basketball player and a true gentleman," former Lanett coach Richard Carter said. "My God, he's the full package. He can score. He tracks the basketball I think better than any player that I've ever coached. When the shot leaves another player's hand or his hand, he just knows — he has a knack for knowing where that ball is going to be, and he gets there to it.
"They're going to get a jewel. I think they're getting a steal in the fact they're getting Anquaevious Pollard."
Pollard is coming off a shortened sophomore season in which he was dominant for Shelton State. The forward led the way with a team-high 16.6 per game and 9.4 rebounds per game as part of a 28-5 Buccaneers squad.
In his last game before play was stopped, he dropped 17 points on 6-of-12 shooting from the field to help the Bucs top Snead State 72-68 to end the season on a seven-game winning streak.
Pollard came to Tuscaloosa after an outstanding high school career at Lanett.
After being brought up to the varsity as a seventh grader, he wasted little time in showing out and put up 19 points in his first game. It was only the beginning for Pollard, who won three state championships with the Panthers, earned the ASWA's Class 2A Player of the Year twice and finished his high school career by averaging 18 points, 14 rebounds and 5.3 assists per game as a senior.
Pollard also helped the Panthers' football team at receiver and helped the team win the 2017 state championship, the program's first since 1963.
For Carter, it was impossible to put into words how much Pollard meant to the Panthers' basketball program.
"His sophomore, junior and senior year, those were the years we won state championships. His leadership, the impact that he brought to the game, I'm telling you, it was just outstanding," Carter said. "I even talked to some of the junior college coaches this year when they came by. They said, 'Our whole scheme is to stop Pollard. If you stop Pollard, you can stop Shelton State.' But you had to stop Pollard. He was just that kind of player. Everybody had to scheme for Pollard. If you don't scheme for Pollard, you're fixing to get beat, I'll tell you that."
Pollard has made a habit of taking the teams he is a part of and making them championship contenders. Now that he's set to join a Nicholls team that won 21 games in the shortened 2019-2020 season, Carter doesn't expect that trend to change.
"Not only are they getting a great basketball player, but they're getting a great young man," Carter said. "He's just an outstanding person. He has a great personality and a love for the game. Hey, coaches like well-mannered people, and he's one of those guys. He's very well-mannered. He was raised right, I can tell you that."
Be the first to know
Get local news delivered to your inbox!