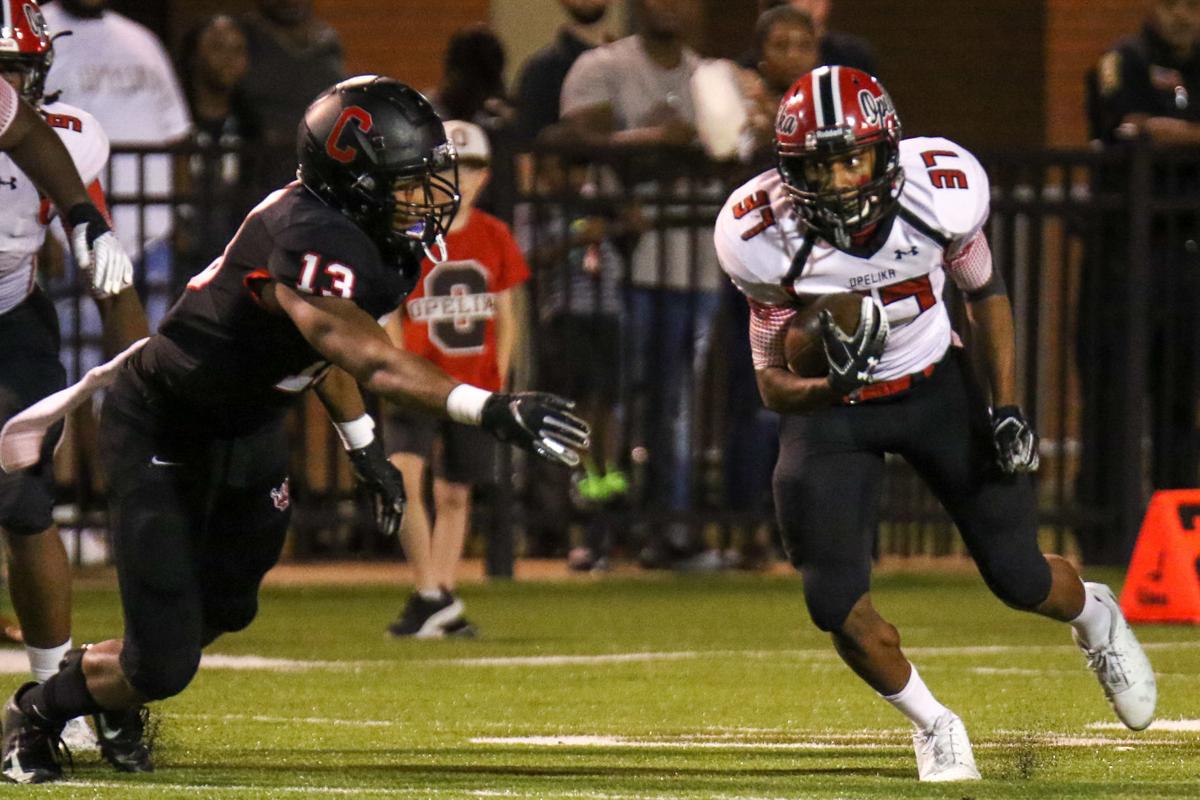 For the past 36 years, the Opelika Bulldogs and Central-Phenix City Red Devils have squared off annually in one of the longest-running rivalries for either program. The teams have stood out as two of their classifications' best for quite some time, and that will be no different when they square off tonight.
Opelika (3-1, 3-0) hosts Central (3-2, 3-0) for a non-region matchup that stands as the 78th all-time meeting between the teams. The Bulldogs will be looking to break Central's four-game winning streak against them, while Central will do its part to build its longest winning streak in the series since 1964.
The Bulldogs enter the game on a nice three-game winning streak, with the latest being a 24-7 victory over Carver-Montgomery. Opelika set the pace with a sound rushing attack led by quarterback Malik Finley and running backs Eric Watts and JD Tolbert, and the defense came up clutch with a strong game highlighted by LeDamian Rowell, who returned an interception 25 yards for a touchdown just before halftime.
Opelika head coach Erik Speakman was pleased with the Bulldogs' performance against the Wolverines, particularly defensively when it came to slowing down a pass-happy Carver team. Speakman said he was pleased with the team's progress through four games as the team continues its chase for another deep playoff run in Class 6A.
"I thought we played really good on defense. The kids did a great job. We gave up two big pass plays, but other than that their offense was really limited in the run game. That was a good job by our defensive front," Speakman said. "I think we've gotten better through these first five games that we've played (this includes Opelika's jamboree with Stanhope Elmore). Each week we've had some kids who have taken a step forward.
"Without having the spring and summer that we missed out on like everybody else missed out on, it's really good to get these kids going and have them come to practice each week. You can see several of them that have made really big strides as the season's gone along. Hopefully, we'll continue that."
Opelika isn't the only team that will enter Bulldog Stadium tonight on a hot streak.
Central has responded well after its 0-2 start to the season, with its latest victory being a commanding 45-28 victory over region foe Enterprise. Red Devils running back Joseph McKay ripped off 208 yards on just 13 carries to pace a Central offense that piled up 467 yards of offense, and the defense forced two interceptions, two turnovers on downs, two three-and-outs and one fumble.
Central head coach Patrick Nix praised the Red Devils' offensive line as well as the entire defense for their play against the Wildcats, and he applauded the fans for the atmosphere they created for Central's first home game since its last-minute showdown with Hoover on Aug. 21.
"The kids came out with a lot of intensity and a lot of excitement and played that way the whole game. It started that way, and it ended that way. For four quarters we played that way," Nix said on the Red Devils Coach's Show on Wednesday. "When you look at that last touchdown drive where we had 10 plays straight running, those guys were having fun getting after somebody and hitting and playing. It was a lot of fun. It was a great atmosphere, great night and great to see the guys enjoy the game of football, start coming together a little bit and start believing in themselves and what they're doing. It was a lot of fun Friday night."
Nix spoke highly of Opelika's team, saying it mirrored Central's when it came to physicality and athleticism. He specifically pointed to Bulldogs running back Eric Watts and Opelika's rushing attack as an aspect of the game that Central has to shut down, and he commended quarterback Malik Finley and receiver Will Beams for what they bring to the Opelika offense.
Nix also complimented the Opelika defensive front, saying the unit is able to get after opposing quarterbacks without needing the linebackers behind them to apply pressure. Central has a pivotal region matchup with Auburn next week, but Nix made it apparent that if the Red Devils look ahead they will come out on the losing end against Opelika.
"We better get ready to play Opelika and not worry about Auburn. We know what we've got to do this week. We've got to worry about us and get better. We better play good in order to beat Opelika. It's a big game," Nix said. "(Our players have) really just tried to get better every week, get better every practice, get better every rep so that we know in the end that's what's going to really matter. In the long run, we're wanting to play in December. This is one of those types of games though that you've got to play good in to continue that momentum, to continue learning about yourself, continue to get better so that we are playing in December."
Speakman, meanwhile, attributed Central's early struggles in Nix's first year to the fact the players had to be at home for so much of the spring due to the pandemic. The third-year Opelika head coach explained the Red Devils are already back to their standard form under Nix, adding that quarterbacks Caleb Nix and Trey Miles, McKay and fellow running back Zion Morris and receiver Jackson Meeks have stood out as well as linebackers Jaylin Robinson and Tony Atkins.
Speakman said in order to keep up tonight, Opelika cannot give up explosive plays in the passing game and must create turnovers against a high-powered Central offense. On the other side of the ball, Speakman stressed not having turnovers in a game for the first time this season and how important it is to get Watts and the other Opelika running backs going.
Given that the rivalry hasn't had region implications since 2013, neither team truly has anything to lose in the matchup. It does, however, prove as a measuring stick for each in their chase after a state championship, and a good showing would offer plenty of promise for the rest of the season.
Speakman was sure to point out that Opelika has a losing streak against Central, commenting that the Bulldogs haven't held up their side of the rivalry as of late. They do, however, get another shot at it tonight, and a strong performance against another dangerous Central team could bode well for what the Bulldogs have left to do this fall.
"It shows you that you can play with one of the best teams in the state, so obviously that puts you up near the top. It's just a one-game deal. All it does is it gives your kids some confidence," Speakman said. "I think whether it's a win or a close loss in a non-region game, as long as you take it the right way — whether you win you don't want to get too big-headed, and whether you lose you don't want to get down on yourself. It's just, let's go play well against a real quality opponent and see where we are right before we jump back into the most important thing — our region."