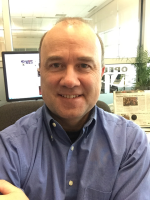 TROY TURNER
Bio

Troy Turner is editor of the Opelika-Auburn News. He previously served as the news editor in New York for the nation's second largest newspaper company, and as the senior editor at several other news entities around the nation. He is an Auburn alum.
Chambers County officials are investigating a late-night shooting over the weekend that left a 23-year-old man dead.
The Alabama Supreme Court on Friday ordered that legal proceedings resume in Macon County Circuit Court regarding the legality of electronic g…
The Opelika-Auburn News has a new sports editor and a new Auburn-beat sportswriter, but neither of them are strangers to the local sports scene.
State prosecutors aren't buying former Alabama Speaker of the House Mike Hubbard's bid to get out of jail early based on time already served a…
One of the nation's senior advisers for election security Tuesday morning told a webinar audience hosted by Auburn University that officials o…
Flash flooding and the possibility of tornadoes continue in the forecast for east-central Alabama, as slow-moving Hurricane Sally is expected …
America's Thrift Stores, a nationwide franchise, will be opening a store in the building formerly serving as the Gander Mountain outdoors/sporting goods store, neighboring Lowe's and across from Tiger Town in Opelika.
Opelika police are investigating a Sunday evening hit-and-run incident in which an 8-year-old child riding a bicycle was seriously injured.
View all